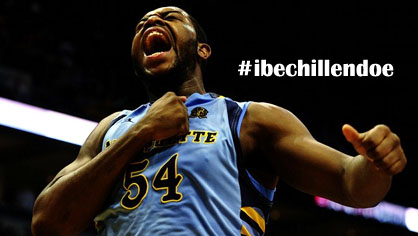 Buzz Williams and his Marquette Golden Eagles are flying high after beating two ranked opponents last week. To start the week off on Monday they beat the #12 Syracuse Orange 74-71, behind a strong outing by junior Davante Gardner. Gardner put up 26 points on 7-7 shooting from the field and 12-13 from the free throw line to go along with 8 rebounds.
A win of that caliber would be enough to make anyone's week, but they topped it off with a dominant victory over #21 Notre Dame 72-64 in front of a boisterous crowd of 19,039, the second largest crowd to ever see a college basketball game in the state of Wisconsin. The star of the night for Marquette was center Chris Otule. After Gardner went 7-7 from the field against Syracuse, Otule topped that by going 8-8 from the field against the Domers for 16 points. Jamil Wilson was also flying high against Notre Dame, scoring 17 of his 19 points in the second half.
The Notre Dame victory capped an undefeated season at home, and extended Marquette's home winning streak to 25, the second longest such streak in the nation. Marquette has not lost at home in Big East play over the last two seasons.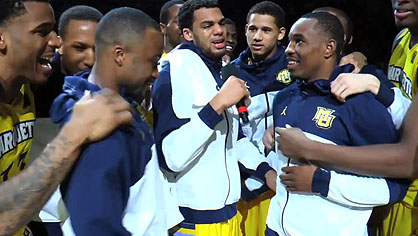 After Saturday's Notre Dame victory was the traditional "Senior Night Ceremony", honoring Junior Cadougan, Trent Lockett and four senior managers along with their families. It is always tough for the managers to speak, as they are never in the spotlight, but Trent Lockett's speech was something to see. After graduating from Arizona State, Lockett transferred to Marquette to be closer to his mother who had been diagnosed with a rare form of cancer. Lockett thanked his mother, but when he started to thank his teammates for taking him in, saying they were the closest team he had ever been a part of, he was overcome with emotion. His teammates immediately got up off the floor and surrounded Lockett, hugging him and using their towels to wipe away his tears.
Next up was Junior Cadougan, the undeniable leader of this team. If you had heard Cadougan speak as a shy freshman when he arrived at Marquette, you would know that he has grown by leaps and bounds since he arrived in Milwaukee. Cadougan thanked each member of the academic support staff, his family, the coaches and students.
Buzz Williams always talks about the culture he has built around his program, and it was clear after watching the team on the court and Lockett and Cadougan afterwards, that he is certainly doing it right. Each team Marquette has had under Williams has been close, but this group seems to be a closer, tighter knit group than I can ever remember.
The two victories moved the Golden Eagles up in the national polls. Today Marquette clocked in at #15 in the AP Poll, #17 in the USA Today/ESPN Coaches Poll
Climbing in the polls can always help come NCAA seeding time, but more important is that the win over Notre Dame secured the double-bye in the Big East Tournament. The Golden Eagles are currently tied with Louisville in second place, one game behind Georgetown. Marquette could get some much needed assistance tonight as Cincinnati, who is battling for an NCAA invitation, travels to Louisville to take on the #8 Cardinals.
Recruits in the house: Future Golden Eagle Jameel McKay was at the game in Saturday as was 6'6 SF Sam Logwood from La Lumiere Academy in La Porte, IN.
Conference talk:
News continues to leak out about the plans for the new BB-7 conference. It is widely speculated that the new conference may keep the Big East name, that won't be know for sure just yet. Today several outlets were reporting that an announcement about a television deal with Fox was coming tomorrow, but that is simply untrue. A source withing the Big East told me that there is currently no timeline for any such announcement, there was still too much to be worked on and ironed out.
Up next Marquette travels to Rutgers to take on the Scarlet Knights on Tuesday night. The game will be televised on Time Warner Sports starting at 6:00.
Marquette has been winning through a group effort this year, so it is not likely that the Golden Eagles will place anyone on the All Big East First Team, but after being picked to finish 7th, Buzz Williams is a serious contender for coach of the year and junior Davante Gardner has been showing that he has a legit shot at the league's 6th Man of the Year award.
No matter what lies ahead for the Golden Eagles in the Big East Tournament and NCAA Tournament, this team has been a lot of fun to watch.
---------------------------------------------------------------------------------------------------------------------------------------
On another note, we have to give props to Marquette's all new Lacrosse team for picking up their first win in program history, an 8-6 victory over Air Force. The 14 save and 9 ground ball performance by freshman goalie JJ Sagi was enough for Sagi to earn the
Marquette Student Athlete of the Week Award
. Congrats guys, though I don't know squat about lacrosse, I watch the NCAA finals on ESPN every year and can't wait to catch a game at Hart Park this spring!