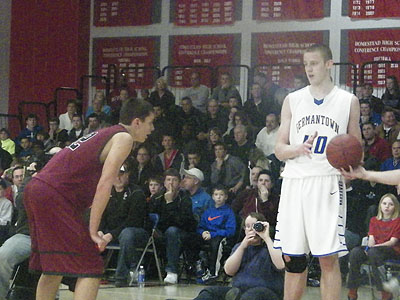 For the first half of the sectional championship game at Homestead, March 2, I thought that De Pere didn't have the size to deal with Germantown senior center Luke Fischer because he's 7 foot and had a six-inch advantage over the Redbirds' tallest starter. Then they gave the Warhawks all they could handle, and it scared Germantown Nation.
The Warharks won, and they will be one of the usual suspects who are returning to the WIAA Boys State Tournament at the Kohl Center in Madison, March 8-9. But they're not the only familiar ones who are going to show up.
One team that won't be there and are a fixture it seems about every year is Madison Memorial. I think people get tired of seeing them winning state every other year or don't care about seeing the overconfident Spartans on the Kohl Center floor. The only way they will get in the building is to buy tickets. And thanks to Mukwonago, who beat Memorial in the sectional final Saturday, we won't see them.
Cuba City and Whitefish Bay Dominican will be there again, and they will play each other in the Division 4 semifinals. Last year, they played in the championship game. I wish that Cuba City coach Jerry Pettigue would hang up his whistle because the game has passed him by after 40-plus years as a coach. The present generation of kids won't jump through hoops like the previuos generations did. If it gives him something to do, then don't expect him to quit anytime soon.
Lodi is back in Division 3 and will play East Troy in the semis. East Troy better leave for Madison now before the big snowstorm hits their area this week. No use in getting stuck in 10 inches of snow trying to leave town and dealing with delays on the highway.
I'm glad to see them make it. I thought they had one of the most talented teams in the Whiz Kids Summer League when I watched them play, especially the 6-9 Prahl twins and Nate Dodge. I like Dodge's game when he can shoot from long range or go to the basket. You can tell that he's a competitor, and I sensed that when I watched his AAU team with the twins on it, Fischer and Bronson Koenig.
Oshkosh North proved that last year's appearance at state was no fluke, but they had nothing to show for it except a loss and a return trip back to Winnebago County. I don't see them beating Germantown unless they slow the pace, which Warhawks coach Steve Showalter doesn't prefer. To him, faster is better and getting ahead and staying ahead is his cup of tea. He doesn't do slow.
Milwaukee King and Mukwonago will be the game to watch in the nightcap that follows the G-Town vs. Mukwonago contest, around 8:15 p.m. Friday. The Indians faced the stress of playing under their current nickname for a couple of years due to public outcry and now they have to deal with the pressure cooker of the Generals. King is fast, pesky and always outwork their opponents, despite having no starter over 6-3. Ask Germantown what happened to them in the finals and how they barely survived.
If G-Town and King meet again in the championship game, expect the Generals to apply the same pressure on the Warhawks. But here's the difference between this year and last year's Germantown team: They have more talented guards that are interchangeable and can handle the pressure.
They have more scoring options besides Fischer. Lamonte Bearden represents a change of pace when he's on the court with his scoring and pushing the ball up. He likes to show off a scoop-shot layup for style every once in a while.
King don't like stylish players to show them up, so the best way they might take Lamonte Bearden out of the game in the first half is to get him in foul trouble. He can't do anything sitting on the bench, but if Showalter isn't getting good results from backup guards Brian Bearden and Dearionte Hudson, then he'll put Lamonte Bearden back in and hope he avoids further foul trouble.
Eyes also will be on Koenig and La Crosse Aquinas, who's a Wisconsin recruit, and Onalaska's Matt Thomas, a candidate for state player of the year. If I had a vote, I'd pick Fischer for player of the year because last year he hid behind a handful of senior leadership and went along for the ride to the state title. This year he had to break out and show his dominance under the basket with some new faces on the team while building team chemistry.
Randolph is Randolph and Drummond is Drummond. Personally, I think that will be a great Division 5 title game to watch if both win on Friday. Green Bay NEW Lutheran (27-0) and Germantown (26-0) are the only undefeated teams in the state tournament field. If the Warhawks win state, their unbeaten streak will stand at 56.
All the games will be fun to watch, and I plan on taking in some of the key ones up there in the Mad City. I'll give you my analysis of the state tournament when it concludes this weekend.