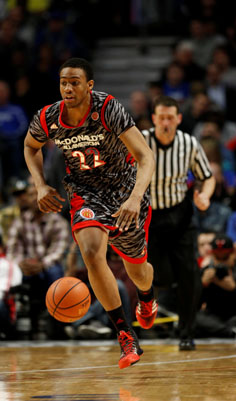 CHICAGO
- Aaron Gordon made the country wait until he was ready to decide where he wanted to play his college ball. The performance he put on at the United Center, April 3, was the reason why he earned the MVP of the 36th annual boys game in a 110-99 West victory over the East.
Gordon announced his decision days before the game. The 6-foot-8 forward from San Jose, CA narrowed his list of schools to Washington, Kentucky, Oregon and Arizona. Gordon took the sunny desert route and chose to play for Sean Miller and the Arizona Wildcats.
It was not a surprise that Kentucky was out of the picture because the Wildcats already had six of the 24 McDonald's All-American players committed to their school, including the Harrison twins, Aaron and Andrew. Both brothers will compete for playing time and should be immediate contributors.
Somehow, the math didn't add up for me when six guys chose Kentucky. They got two to commit there last year. One of the two, Archie Goodwin, plans to enter the NBA draft. He's projected as a late first round pick. The other MCDAA player, Alex Poythress, decided to stay at least for another year.
Gordon, with 24 points in 24 minutes, took in the surroundings of the United Center before the game. "I like to think of myself as a humble person," he said. "So, just lining up while they're singing the National Anthem, I was just looking around at all the people. It kind of felt like that I made it at this point and time and that I made it to the highest level that I can possibly do right now."
Another highly-regarded player that's on the one-and-done path is keeping the recent Canadian pipeline going. Andrew Wiggins, out of Huntington Prep (WV) school, by way of Thornhill, Ontario, still hasn't made his college choice yet. He has the skills of a guard and a small forward at 6-8. Wiggins' weight of 205 is on the too lean side for his height. If the NBA didn't have the one-year waiting rule in effect, he would've declared for the draft.
Chicago's own Jabari Parker, former Simeon and current Marquette player Steve Taylor's teammate, came to the event fresh off a state championship for the fourth year in a row. He was the best senior in the country and is headed for Duke. If all goes well for him in a year or two, he will be going to the NBA.
This year's group of the 24 selected players aren't NBA ready. As a sidenote, there were better players in Wisconsin than some of the ones that were picked. Maybe next year, there will be a someone from the Badger state that will be picked.