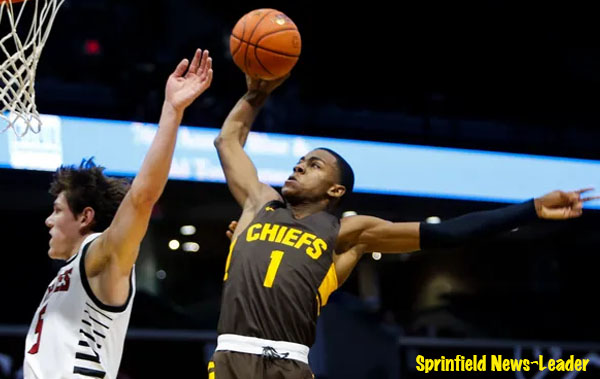 BY MARK MILLER
Special to BrewCityBall.com
From the very beginning, Shaka Smart and the entire coaching staff at Marquette University identified guard Zaide Lowery a priority recruit in the class of 2023.
Smart extended a scholarship offer to Lowery in July of 2021 and, almost nine months after extending the offer and five months after Lowery took an official visit to the Big East school, Marquette has its first recruit in the current junior class.
Lowery and others around him noticed Marquette's concerted recruiting effort and that hard work paid off this week as Lowery pledged his commitment to Golden Eagles.
"Coaches from other college programs contacted me and said they were going to come to my games during the first open period in April, but they never did," Lowery said. "Marquette, though, was at every one of my games. The relationships between me and the coaches is very tight. They have texted me almost every day since the offered me a scholarship."
The first player in Marquette's 2023 recruiting class, Lowery is an athletic 6-foot-5 wing from Kickapoo High School in Springfield, Missouri. He averaged 15.5 points, 7.1 rebounds and 3.0 assists as a junior starter for a school of roughly 1,600 students that won the 2021 Class 6A state championship.
"I am able to attack the basket and I've been working hard on my shot as well," said Lowery, who has grown from 6-foot-3 to 6-foot-5 since the start of the high school season back in November. "Defensively, my arms are pretty long so I can get a lot of deflections. I was able to guard different positions in high school. We do a lot of switching on our high school team, so I got to guard just about every spot on the court."
Checking in at No. 93 in the Rivals.com national rankings for players in the 2023 class, Lowery selected Marquette over offers from both Kansas State and Missouri State.
"Marquette was, by far, the team that recruited Zaide the hardest," said Jayme Donnelly, an assistant basketball coach at Kickapoo who was heavily involved in Lowery's recruitment. "It was Marquette all the way. Marquette really impressed our entire coaching staff at Kickapoo. Coach Smart and the coaching staff at Marquette were really impressive in terms of the time they invested in Zaide."
Lowery shot 55 percent from the field and 38 percent from three-point range last season at Kickapoo and is spending his spring/summer competing with the Missouri Flight club program that competes on the Adidas circuit.
Donnelly feels Lowery's best basketball days are down the road as he continues to hone his skills while also gaining weight and strength.
"Zaide can impact the game a lot of different ways," Donnelly said. "He's very smooth out on the court and a natural when it comes to playing. He's an athletic player who finds the right place to be at the right time. The game just slows down for him."
Also an outstanding football prospect, Lowery had 201 receiving yards in a game last fall and his ability on the grid iron attracted the recruiting interest from several collegiate programs.
But he's all-in on basketball and is excited for what his senior season in high school could bring, along with his future at Marquette.
"We have everybody back who started on our team this season except for one player," Lowery said. "Most of the guys on our bench are also back. We lost two seniors off our team so I think next we can make a big run.
"I'm also excited to join the Marquette program after my senior year. I've kept in contact with some of the guys and have followed (Marquette 2022 recruit) Sean Jones a lot. We have some good talent coming into the program."