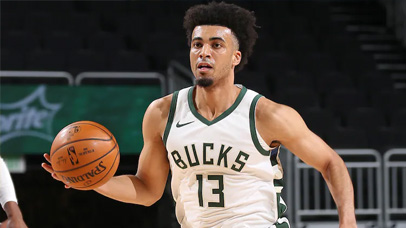 The Milwaukee Bucks kicked off the preseason in strange fashion. A fire alarm at FedEx Forum caused the game to end early with the Memphis Grizzlies awarded the victory. The Bucks made sure to leave with the catering though. Literally, they walked off the court with trays of lemon pepper chicken wings and some good old Memphis barbecue.
Otherwise, it was a pretty uneventful game-like all preseason games. The goal is just get through it healthy.
Really, this preseason the only thing to really pay attention to is Jordan Nwora's continue development into a NBA rotational player. Well, you should also tune in to hear Lisa Byington on Bally Sports as she continues to make history as the first full-time TV play-by-play announcer for a major sports team.
Otherwise Nwora getting minutes is the main thing. Rodney Hood and Semi Ojeleye are nursing injuries and Hood, while a high reward signing is usually injured-a lot.
That is why Nwora's development is critical to the rotation.
Like it or not, the Bucks need to load level Khris Middleton's minutes this season. If Nwora can work his way into a reliable contributor, it gives the Bucks another option on nights Middleton needs to sit. Also Nwora can be a nice insurance policy in the dreaded case of an injury.
Look, I am not saying Nwora is the key to a repeat. I am just saying his improvement can be very useful to another championship run. Plus, it is the preseason, and unless you like shots of Giannis in street clothes, there really isn't much to watch during these games that do not count.

-----------------------------------------------------------------------------------------------------------------

Todd Welter started covering the Milwaukee Bucks in 2002 when he was hired as an NBA Hotline intern at 620WTMJ, the Bucks radio flagship station. There he listened to the legendary Ted Davis' calls and instantly got hooked on Bucks basketball. In 2004, Todd was elevated to producer and sports reporter at the station and covered the Bucks until his departure in 2010. Todd continued to cover the Bucks another four seasons for the Associated Press as a freelance stringer and reporter. Todd left the media world after the 2014 season to focus on starting a family. Now that he has a chance to work with Jim Ganzer again (He worked for Jim at SportsBubbler.com during its entire run), he has returned to provide Bucks content for BrewCityBall.com.

A Marquette University Broadcast graduate, Todd has also covered Marquette Men's and Women's Basketball, UW-Milwaukee Men's Basketball, Wisconsin Badgers Basketball and Football, the Milwaukee Brewers, the Green Bay Packers, the Horizon League Tournament and the NCAA Tournament.

When he is not consuming sports Todd can be found spending time with his wife, daughter and his dog and finding new ways to grill, cook or use his air fryer.