Last weekend Marquette hosted 6'3 shooting guard Sam Cassell Jr. The West Baltimore native is now in Florida at Chipola College in Marianna. Cassell talked with BrewCityBall.com about his visit to Marquette and spending time InsideTheAL.
"I had a really good visit to Marquette, I really enjoyed it," Cassell said, "I played with the team and I think that went very well. I felt good playing with them."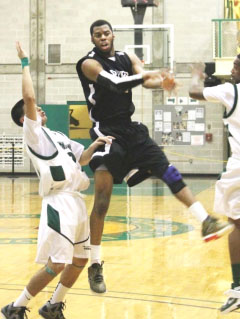 Like a lot of recruits, Cassell is drawn to Marquette Coach Buzz Williams. So just what is it about Buzz that interests Cassell? "Coach Chew has been recruiting me, and he's been great. Coach Buzz is, well, he's just Coach Buzz. He's really good. I want to play for a coach that will work me very hard and get the best out of me. That is what every player should want, and Buzz is that kind of coach."
While Cassell only lived in Milwaukee for one year while his father was with the Milwaukee Bucks, he did get to catch up with a friend while in town. "I got to spend time with the team, but I did spend a lot of time with Todd Mayo. We were able to catch up and talk about old times. We were teammates, we played together at Notre Dame Prep."
The talented guard also knows what he is looking for in a basketball program. "I want to win. I'm a winner, I want a school that is going to win, I want to go to a winning program, somewhere that will help me get to the NBA. I also want to go where I will get playing time. I know I will play wherever I go, but I want to play right away, that is important."
Having Sam Cassell as your father, someone that went through a recruitment, played college ball and went on to the NBA has been a help to Sam as he travels through the process. "My dad has been a big help, but he doesn't tell me what to do, he said this is my life, it is my decision, and that this is the most important decision that I will ever make, so he wants me to take my time and make the right decision." Sam knows what his mom wants from his recruitment, "She doesn't mind where I play, she only wants one thing, and that is for me to get a good education."
So where will Cassell play his college ball and when will he make his decision? "I am still open, I don't have a leader at this point. I have visited Missouri and Marquette, I visit UConn this weekend and will visit Louisville next week. I don't have a deadline, when I feel it, when I know where I want to go I will make the decision. I do want to commit by October though, I want to sign during the early period. I want to make the right decision."