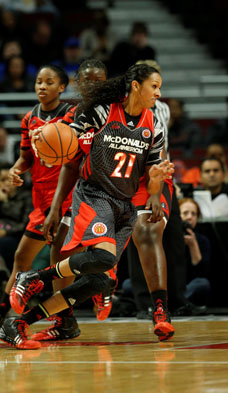 CHICAGO -
Last year, at the United Center, the West team lost a heartbreaking game by a point in the McDonald's All-American game. They returned the favor this year with a 92-64 runaway victory in the 12th annual girls meeting, April 3.
It was your usual all-star game with up-tempo play and a little sloppiness. The Addidas-designed red uniforms worn by the East and the green uniforms worn by the West made both teams look like Christmas colors.
Rebecca Greenwell, who's headed for Duke, got the West team off to a hot start with her outside shooting. One of her threes allowed the West to enjoy their biggest lead of the first half of 18 points at 31-13.
Greenwell had an unfortunate moment late in the half that ended her night. Greenwell interecepted a pass from the East's Lindsay Allen. As she drove for a layup and got fouled by the East's Kaela Davis, her right knee buckled. Greenwell, who wore a big brace on the knee, limped off the court and didn't return. It was later revealed that Greenwell re-injured her MCL and will get it checked out. Her absence motivated the West as they took a 45-35 lead into the locker room.
"When (Greenwell) hit her first two threes, we started to motivate her," Linnae Harper, from Chicago's Whitney Young, said. "We encouraged her to keep shooting. That opened up a lot of the court and that got her confidence up."
Greenwell, who left the game with eight points, going 3-for-5 from the field and 2-for-3 from beyond the arc, played the role of cheerleader the rest of the game. "Even when (Greenwell) got hurt, we cheered her up," said Harper. "She helped a lot."
Somehow, the East went backwards from their late first half surge and let the 10-point deficit get bigger in the second half. Mercedes Russell had everything go her way in the game. The 6-foot-5 future Tennessee Volunteer player had 16 points, 12 rebounds and three blocks and earned MVP of the game. The only thing that didn't go Russell's way was the loss by the Vols by Louisville in the NCAA Regional Finals with a trip to the Final Four on the line.
"That (game) was very interesting because those were my last two schools (that were on my list)," she said. "We (Tennessee) didn't come out to win. I thought it was a pretty good game the first half."
The 28-point waxing by the East was the worst defeat since the East beat the West by 29 points (105-76) in the 2007 game at Louisville's Freedom Hall.