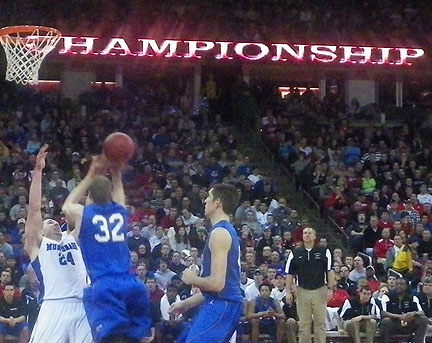 MADISON -
Winning their second straight state championship involved making adjustments on the run. Germantown dealt with foul trouble from their frontcourt players and inconsistency from two of their top three scorers in the Division 1 championship game against Mukwonago to win back-to-back titles in a 57-28 win, Mar. 9, at the Kohl Center.
When Lamonte Bearden and Jake Showalter shot a combined 2-for-16 from the field, the defense cranked it up. They held the Indians scoreless the last 6 minutes 38 seconds of the game. Making only nine shots from 43 attempts didn't get Mukwonago even close to keeping up with Germantown.
"We wanted Lamonte to have a really good game from the field, and he was 1-for-11," Germantown coach Steve Showalter said. "We wanted Jake to light it up from outside. He was 1-for-5. I don't know what happened. We're used to scoring 80 points a game. Our guys were sitting on the bench and not making shots. I can't even explained what happened."
The Warhawks got by with senior Luke Fischer's 17 points. He was named to the all-state tournament team and Mr. Basketball in the state of Wisconsin. The 7-footer got in early foul trouble but managed to stay on the floor and play 27 minutes.
Mukwonago wasn't just happy to be at state. They wanted to make an impact in the title game. They were physically drained from upsetting the powerhouses in Madison Memorial in the sectional finals and King in the state semifinal game in consecutive weeks. Not many people gave them a chance against Germantown to win the game, and their horrible shooting was proof ot that.
"I thought the game was going really well for us," Mukwonago coach Jim Haasser said. "Had we sank some shots, what that would have done for the rest of the game might have been a little intriguing." The Indians shot 21% from the field (9-for-43).
As the game clock wound down to the 3:00 mark, many people headed for the exits. There was no way that Mukwonago could come back from 10 points down with 5:23 left. Germantown ended the game on a 19-0 run.
Showalter said it was a journey to make it through another unbeaten season with a target on their backs. It was his duty to blend a team with only three seniors and lots of juniors after having a majority of seniors on last year's team to bond as a unit. It worked. King and Oshkosh North won back-to-back titles recently, but neither of those teams won consecutive state titles without a loss. The Germantown winning streak now stands at 56.