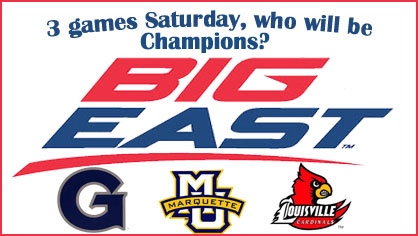 Can Buzz Williams and the Marquette Golden Eagles win the Big East Championship after being picked to finish 7th in the league? Well, it will take a lot.
First Marquette needed to win six of their last seven games. A difficult task with teams like Pittsburgh, Villanova, Syracuse and Notre Dame on the schedule, but Marquette has all but accomplished that task. They beat Pittsburgh, Syracuse and Notre Dame, all ranked teams. They also beat Seton Hall in New Jersey, but lost to Villanova in Philly. Then they had to come from behind to win at Rutgers. A tough, but gritty victory. That is five wins in six games.
Marquette also needed some help from other conference teams. First they needed some help from Syracuse, but they were beaten by Louisville, so the Golden Eagles remained tied with the Cardinals for second place. From there it looked as if Marquette and Louisville would end in a tie for second place, as Georgetown had a one game lead and did not look like they would lose their grip.
Enter a team fighting for their NCAA lives, Villanova. The Wildcats, playing on the same home court where they upset Marquette just a week ago, took on the task of upsetting the Hoyas. 'Nova pulled it off, beating Georgetown 67-57, creating a three way tie for first place. Marquette and Louisville fans thank you Villanova.
So now there is a three way tie for first place, three teams hoping to call themselves Big East Champions, in the last year to be considered as "The Real Big East".
But it isn't done yet, there are still games to be played.
It all goes down this Saturday....
#5 Georgetown hosts #17 Syracuse at 11:00

#15 Marquette travels to St. John's at 1:00

#8 Louisville hosts #24 Notre Dame at 3:00

The end game is simple. Win and you share a piece of the Big East regular season title, lose and you finish in second place. It's that simple, but the games won't be easy. Georgetown and Louisville are both playing at home, but they are both playing top 25 teams.
Georgetown
kicks it off at 11:00 am CT, and will be out for blood after their loss to Villanova has likely cost them cost them the outright title, but Syracuse has been on a bit of a slide, losing three of their last four, so they too will be fighting for the final spot for a double-bye in the Big East tournament, though that is unlikely as they would need Pittsburgh to lose to DePaul, which is unlikely.
Marquette
will be watching as the Georgetown game winds down, but won't see the ending as they will be taking the floor in Madison Square Garden to take on St. John's. While this is the only un-ranked team of the three games, Marquette has struggled on the road and St. John's will have something to prove. Leading scorer D'Angelo Harrison was booted from the team last week, and Sir'Dominic Pointer has been suspended after throwing a punch in the Notre Dame game, so the rest of the Johnnies will rally around the underdog image and give it everything they've got. Marquette is expected to win, but it won't be an easy one. No win in Madison Square Garden is ever an easy one.
Lousiville
will take the floor for the finale as the Marquette - St. John's game winds down. This one won't be easy either. Notre Dame will also be fighting for the four-seed spot in the Big East Tournament, and a win will ensure that they get the double-bye. Sir'Dominic Pointer from St. John's wasn't the only one suspended for fighting, Notre Dame forward Cameron Biedscheid also received a one game suspension, but isn't expected to be a major loss for the Irish.
So get the popcorn ready on Saturday and sit back and watch as some of the best teams in college basketball battle it out for the Big East Championship. By 5:30 on Saturday there could be three Big East Champions, there could be two, there could be one, but Marquette, Georgetown and Louisville all have a chance to stake their claim for the final title for the Big East Conference as we know it.