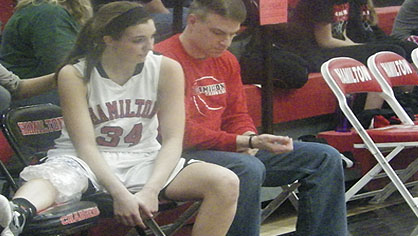 I sat and watched the girls regional finals at Sussex Hamilton, March 2, and was waiting for the Chargers to prevail over Arrowhead. The unthinkable happened late in the fourth quarter when star junior Mackenzie Latt slipped under the basket and injured her knee. She pounded the floor in disgust and the crowd was silent.
After Latt was assisted to the sideline, she had her right knee wrapped up in ice and propped up in a chair, weeping along the way and watching the Warhawks break a 35-35 tie to win. Latt could do nothing to help her team. That's what hurt the most as Hamilton was one of the top teams in the state. Now there's nothing to do but hope that Latt will recover in time for her senior season.
Hamilton was one of four area No. 1 seeds knocked out of the girls playoffs as they enter the sectional round. Whitefish Bay, Whitefish Bay Dominican Milton and Arrowhead are the only teams that aren't either a 1 or 2 seed. The other 1-2 seeds face each other this week, starting on Thursday.
I think Mukwonago (1) and Janesville Parker (2) is a good matchup. What about Divine Savior Holy Angels (2) against Milwaukee Riverside (1)? Very tasty. Can DSHA's Arike Ogunbowale take it to the hoop against 6-foot-5 Breanna Lewis of Riverside without getting her shot blocked, or will she do the wise thing and shoot from outside? If the Dashers' Shaylan Reardon take Lewis away from the basket if the Tigers play man-to-man defense, then "AO" can go to the bucket all night.
Don't even imagine what kind of hostile environment you'll see between Oak Creek (1) and Franklin (2). The border line is south 27th St. Either side of that street, east or west, and you're an enemy. These two teams will take their Hatfields and Mc Coys battle to Greenfield, who has the unduly task of trying to maintain some kind of order in their gymnasium Thursday night. There will be no love lost. I will personally pay to see that one.
I think Beaver Dam, Pius, East Troy, Racine Prairie, New Berlin Eisenhower, Heritage Christian, Wilmot and Arrowhead will win their sectional semifinal games.