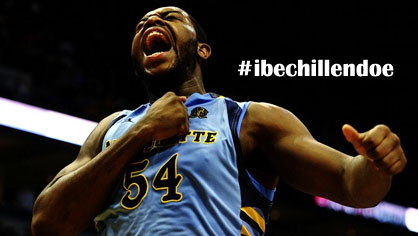 In another epic battle for the top of the final year of the real Big East, Marquette outlasted Syracuse 74-71. Davante Gardner led Marquette with a career high 26 points on 7-7 shooting from the field and 12-13 from the free throw line. Gardner also led Marquette with eight rebounds. It was a career night for the center from Norfolk Virginia. "I guess I had a good game, I was just trying to help my team out, trying to get the W," said the junior. But he did more than just help the team out, he controlled the game.
Playing against a front line that is expected to be in the NBA in the future, Gardner's effort was unmatched. "Chris was sick, so I knew I needed to pick up my game." After playing only 11 minutes in the loss to Villanova. Gardner logged 33 minutes against the Orangemen, another career high. Jamil Wilson, who put up 12 points to go along with 7 assists applauded Gardner, "With Davante's ball skills and his ability to work in the high post, he really opens things up for us."
Marquette coach Buzz Williams agreed with Wilson. "It is really hard to teach kids about space, but Davante really understands space as well as anybody. Those offensive rebounds amidst really talented players were huge, and when he gets to their zone, he understands where the gap is."
Not only does Gardner understand space, but his teammates understand that he creates it for them too. "With Davante moving, Twinkle-Toes we call him, he's so light on his feet, and Chris bullying whoever it is, they give you the freedom to move. So many guys are focusing on Davante and Chris because they are always touching someone, it gives you the ability to roam and find open shots." Said Wilson.
In the first half it looked as if the game was going to be a blow out. Syracuse went up by 11 and with no answer, Buzz Williams sent Jake Thomas into the game. Thomas hasn't logged serious minutes since Todd Mayo returned at the start of the second semester. On the first trip down court, Thomas drained a three from the right corner and was fouled on the play. He connected on the free throw completing the 4-point play, and it sent the Bradley Center into an absolute frenzy. "I needed somebody to take a shot," said Williams. Jake has been through a lot this year. He was a big part of the rotation, and hasn't played much since Todd came back. I was really happy for him, really happy for him."
From there Marquette chipped away at the lead. There were scoring droughts of 7 1/2 minutes in the first half, 6 1/2 minutes in the second half, but it was a 16-2 run down the stretch that propelled the Golden Eagles, giving them sole possession of 2nd place in the Big East.
You often hear the phrase, 'They wanted it more than we did.' Well, that is a perfect description of this matchup. When looking at the two teams, it is obvious that Syracuse is bigger, longer and has better shooters. "They bring NBA players off the bench." said Williams, but Marquette out hustled, outplayed and out toughed Syracuse throughout. And while the players did the work, there is no question that Buzz Williams coached a hell of a game. Vander Blue, the team's leading scorer who is also leading the team in minutes played with 32 per game, only played 23 minutes. He was pulled for Jake Thomas and the result was a four point momentum changing play. Trent Lockett, who averages 26 minutes per game, only played 13 minutes, as Williams constantly changed lineups, riding the effort of players like Steve Taylor. Williams constantly spread the floor, opening up driving lanes against Syracuse' zone defense. He used various lineups that he has never used before, constant adjustments. If he is not the conference coach of the year, there should be an inquest.
There were many keys to this game, and Thomas' four point play probably had the biggest impact, but here are the real keys to Marquette's victory...
Aggressive defense without fouling:
Marquette only committed 10 fouls on the night. 10. That's it. Syracuse finished with 22 fouls.
Free throws:
With the lack of fouls, Syracuse did not frequent the free throw line. The Orange went 5-7 from the stripe, the lowest number I can recall for any opponent this year. On the flip side, Marquette was 29-35. That's a 24 point difference from the line folks! And people often question whether or not this team practices free throws?
Rebounds:
Marquette won the overall rebound battle 30-26, but Syracuse added 5 in the final minute as they were desperately trying to score. The offensive glass is where Marquette made a difference. With 15 offensive rebounds, MU turned in 15 second chance points.
Bench scoring:
Didn't some yahoo from ESPN radio in Milwaukee just compare Wisconsin and Marquette and say that Wisconsin had a deep bench where "Marquette just doesn't have that"? Marquette's bench out scored Syracuse' bench 55-25 last night. No question, MU has one of the deepest and most talented benches in the entire country.
Ball control:
In the pre-game report I said MU needed to keep the TOs to 14 or under. MU did have 16 turnovers, but for Junior Cadougan to only have 1 turnover in 38 minutes, was certainly a key to the game.
It doesn't get any easier from here, up next Marquette hosts #20 Notre Dame on Saturday for Senior Day, and National Marquette Day. Should be another epic battle in the final year of
"The Real Big East"
.
---------------------------------------------------------------------------------
Sore loser? There is no question that Jim Boeheim is a legendary coach, he is one of the four active coaches in the Hall of Fame. It was a surprise that he took shots at ESPN's Andy Katz last week, but after hearing his explanation, I was willing to give him a pass. Until last night.....
First question came from a younger, Syracuse reporter, who simply asked why DeJuan Coleman didn't play. Boeheim went off on the guy, saying, "Maybe you should be coaching. You have all the answers, I have been doing this for 37 years but you obviously know more." To say it was awkward would be an understatement.
Next was CBS' Jeff Goodman, who said, "Earlier this year you had told me you didn't know if your team really had a leader..." Boeheim cut him off, saying, "I never said that." Well, I am sure he did say it as it was probably in a Goodman preseason article. Goodman attempted to finish his question, but Boeheim continued on his rant, saying they have a great team, it was only one loss and....yep..."You guys have all the answer, what do I know, I've only been doing this for 37 years."
There were a few more questions, then Paint Touches' Andrei Greska simply asked for any memories playing in the Bradley Center for the last time. Beoheim started out by complimenting Milwaukee as a basketball town and Marquette's fans, then turned it to the changing landscape. "Teams come into the Big East, they leave. Things change. The Big East turned down an offer a year ago that would have given each school $17 million. Now they are signing a deal for $2.5. They blew it"....and he continued with a rant on the Big East, saying if they accepted that deal everyone would have stayed put. His finish capped it off. He turned his focus back to the reporter that asked the first question, and said, "I don't know what you guys are looking for, you'll have to get your Pulitzer from someone else because your'e not getting it from me. He starred at that first reporter the whole time, and the stare continued as he got up and walked out of the room.
Starring down a young reporter at the end of a press conference because he asked why a player didn't play? Have fun in the ACC coach.