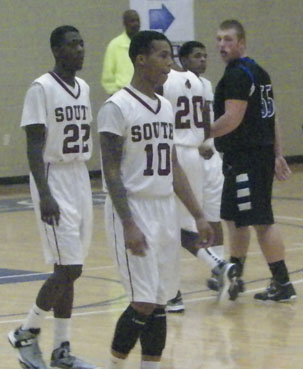 While basketball observers of the City Conference are keeping an eye on the title race that will go down to Hamilton, Vincent, King or Washington, do not forget about Milwaukee South.
You might disregard them as another south side school that hardly anyone takes seriously. You should take notice and don't sleep on them. If you don't take them seriously, they could sneak up and break that four-way logjam between Washington, Hamilton, Vincent and King. Those four teams have 8-1 conference records entering this weekend.
The Cardinals are trying to play the spoiler's role when they play the Purgolders at Washington Friday. They won't contend for the conference championship because they are 7-3 in conference play. But what they can do is make it hard for Washington to take the City away from the three other heavyweights.
The Purgolders snuck up on everybody and played good ball up to this point. Unfortunately, they didn't play on Tuesday. King, Hamilton and Vincent won their games a couple of days ago to catch up at 8-1 and make this anybody's race.
It should be noted that Washington beat the Wildcats by eight points at home and sneaked by with a 1-point win at Vincent. They don't play the Generals this season. Don't be fooled by their 11-7 overall record. A tough non-conference schedule prepared for the Purgolders for this moment and may carry them well into the postseason.
But first, they have to shake this pesky South team, who's second in the conference, at least for now, because there's a four-way tie for first. It would take a great effort by the undersized Cardinals to shock the city and crush the title hopes of the Purgolders in front of a packed house.