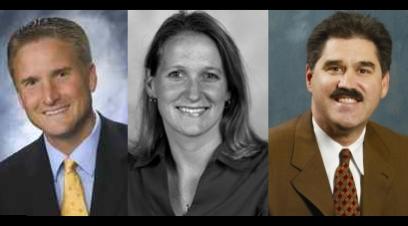 Multiple sources have confirmed to PantherU under the condition of anonymity that the Search and Screen Committee of the University of Wisconsin-Milwaukee has narrowed its search for the chair of Director of Athletics to three finalists: Paul Plinske of UW-Whitewater, Jim Schmidt of UIC, and Amanda Braun of Northeastern.
Paul Plinske, whose name has been in the hat since PantherU initially broke the story in November, is on the list. Joining him are current UIC Director of Athletics Jim Schmidt and Executive Senior Associate Athletic Director of Northeastern University Amanda Braun. The three finalists will be invited to campus in the very near future for a final round of interviews, at which point Chancellor Michael Lovell will make a final choice as to who will be the next AD of Milwaukee Athletics.
"I am very excited about the chance to interview for this position. Meeting the staff at the university will be a highlight for me, but I'm especially interested in the opportunity to examine the culture of the University and its athletic department," said Paul Plinske when reached for comment Monday.
Paul Plinske is no stranger to Milwaukee, having made it to the finalist round in 2010 when the university picked Rick Costello, then Deputy AD of Rutgers. Plinske has been AD of UW-Whitewater for nine years now, leading a department that has won eight national titles at the D-III level. Plinske has also spearheaded fundraising campaigns, bringing in over $11 million to the university for facility enhancements, totally making over the athletics village at UWW. For the last five years, the University has finished in the Top 15 of the NACDA Directors' Cup, finishing as high as fifth once.
Plinske offered a glimpse into his plan for Milwaukee. "People make places great, but a healthy culture is critical for sustained success. It's my goal to build people in a rich and supportive culture. We've done it at UW-Whitewater and I believe it can be done anywhere else."
Jim Schmidt is probably one of the most recognizable names Milwaukee fans have ever seen up for their AD job. As the heard of UIC Athletics for the last 16 years, Schmidt definitely has the most amount of executive experience, and it came at the highest level. The Dean of Horizon League AD's, Schmidt led a program that went to its first NCAA tournament in men's basketball and became a dominant force in the Horizon League in baseball, women's tennis and men's soccer.
As of this post, Schmidt had not returned a request for comment. We will update this as soon as he makes a statement.
Under Schmidt hire John Trask, the Flames' soccer team reached No. 4 in the nation and the Elite Eight in the 2007 men's soccer tournament. Schmidt also hired Howard Moore, who in his third year as head coach of UIC basketball has finally gotten the Flames going after the program had grown stagnant under Jimmy Collins.
Amanda Braun comes to Milwaukee to try and get back to her roots as a native Wisconsinite. Braun, a graduate of Siena and North Carolina, began her postgraduate career working at North Carolina and Duke before moving to Milwaukee archrival Green Bay in 1999 as Assistant AD. Eventually, Braun became Associate AD, when she helped set the groundwork to build the Kress Center. Her fundraising acumen was proven when she created a major fundraising event for Green Bay, which one can only assume is the wildly successful annual steak fry. Braun never got to see the completion of the Kress Center in 2006 because she left to become the Associate AD at her current home, Northeastern. Braun has been promoted twice in six years, in 2008 to Senior Associate Athletic Director and in 2011 to Executive Senior Associate AD.
Braun politely declined to be quoted for the article.
At Northeastern, Braun oversees a wide variety of Husky activity. Beyond running day-to-day operations and strategic planning, Braun oversees all business, compliance, enrollment, human resources, the scholarship budget, men's and women's basketball, field hockey and men's rowing. Where she could be very useful to Milwaukee Athletics is in fundraising and capital projects; at NU Braun is the point person on athletics construction projects and oversees the annual fund and leadership giving staff. On the flip side, she is the only candidate without experience in the top job, never having served as Athletic Director previously.
Details are being worked out as we speak, but if the finalist round is anything like it was in 2010, the candidates will come to campus and meet with all sorts of delegates for the university. They will meet with the Search and Screen Committee, the Athletic Board, employees of the Athletic Department, and participate in a public presentation (complete with Powerpoint!) and Q&A with members of the Milwaukee Athletics community.
Milwaukee's current AD, Andy Geiger, will remain in the position until the new hire is settled in on campus, at which point he will step back to take an advisory role as well as become a full-time fundraiser for the athletics program. Previously, the Milwaukee program went through a transition time between Bud Haidet and George Koonce, as well as the time between Interim AD Dave Gilbert and Rick Costello.
A recap of previous AD finalists:
2009
Vince Sweeney was promoted at UW-Madison to Vice Chancellor of University Relations
Paul Schlickmann became the Athletic Director at Central Connecticut State University
Monty Porter is still Associate AD of Business Operations at Western Michigan
George Koonce was hired
2010
Paul Plinske remains AD at UW-Whitewater and is back again as a finalist
Grace Calhoun is now AD at rival Loyola in Chicago
Rick Costello was hired
2011
Andy Geiger will remain AD until a new one is hired and moves onto campus
For those who would like to discuss the AD position, we have a new thread on our
PantherU Forums