Every one of the players on the Marquette men's team believed that they could pull off their first conference win to start the new year on a day when they played their Big East game against visiting UConn, Jan. 1, at the BMO Harris Bradley Center. And they had to find away to beat the Huskies without their head coach, Buzz Williams.
Williams served his one-game suspension for a rules violation that was committed by a former assistant coach. With Williams unable to have contact with his team during his suspension, the Golden Eagles had to reach for something from within to make it happen.
An underdog such as Marquette, who's picked to finish seventh in the Big East, had to show people what they were made of in their 82-76 overtime win over UConn. Senior guard Junior Cadougan created the miracle shot in regulation.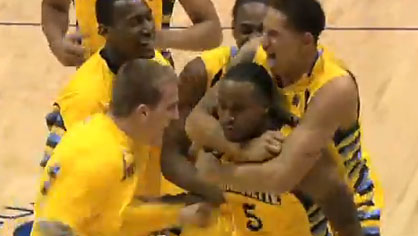 "When I had the ball in my hands with five seconds left, I knew I had to get a couple of rhythm dribbles in and shoot it to make it," he said. "It was a great feeling." His three-point shot forced overtime with the game tied at 69-all.
That win by Marquette gave Brad Autry, Williams' fill-in as head coach, a feeling of euphoria. "I really as much (enjoyed) the win, and I'm estatic to win," he said. "I'm just so happy that I feel like we've turned the corner into who we are with this team, not what last year's team was or two years ago but this team."
Autry said that he didn't talk with Williams for about two days. "I guess when the time limit is up, we'll have plenty to say," he said. "I know that he'll be excited. I know it's hurting him a great deal (being away from the team) and I miss him and we'll be glad to have him back."
No one knew if Williams watched the game on TV, but if he did, then he was proud of how his team fought throughout the game, especially when the lead seesawed back and forth between both teams. Marquette pulled one more miracle from their bag of tricks after the Huskies took a 69-66 lead with seconds remaining in regulation.
Ah, that's life in the beast of the Big East where no game is a lock to win and you have to bring your lunch pail to work. The Golden Eagles have another battle on Saturday when Georgetown rolls into town to try to put an end to Marquette's 17-game home winning streak going back to last season.