So I look at this week's area girls basketball rankings and see that Milwaukee Riverside is at No. 2 behind Sussex Hamilton. No. 3 Divine Savior Holy Angels should have something to say about that.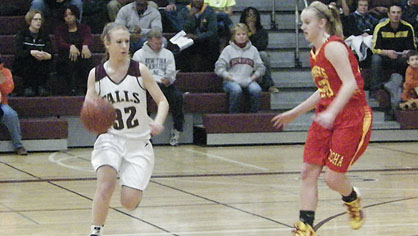 The Dashers will address that issue of who should be on top when they deal with Hamilton in conference play. Plus they owe the Chargers for taking the Greater Metro title that they were lucky enough to pull off.
As for the Tigers, they don't deserve to be No. 2 because they have a 4-4 record. Riverside won their first game and lost the next four before winning their last three. And maybe they got the No. 2 ranking after blowing out Milwaukee King, also in the top-10, 87-59, last Saturday, at the Al McGuire Center.
Now granted that it was the first game of the all-day basketball invitational with the game beginning at 10:30 a.m. Who's ready to play a game that early in the morning? Guess the Riverside players all ate their Wheaties.
A convincing win over the Generals was all it took for the Tigers to be up there in the rankings. Give it some time and watch the rankings shuffle with Pius, Oak Creek and King moving up. If Hamilton loses a game and DSHA keeps winning, then the Dashers should be the top dogs.
You might argue that Riverside had a tougher schedule so far than DSHA, which is true, so their ratings percentage index (RPI) is higher. The Tigers lost to De Pere, Bay Port. Oak Creek (also in top-10) and Trinity (IL), and they're not cupcake teams. DSHA rolled over Racine St. Catherines, Kenosha Bradford, Menomonee Falls, Whitefish Bay and four other weak teams, losing also to De Pere.
Give it some time and let things shake out before passing judgment. Or, you can wait until the playoffs to see who's still standing, since some of the top-10 teams will likely be in the same sectional.