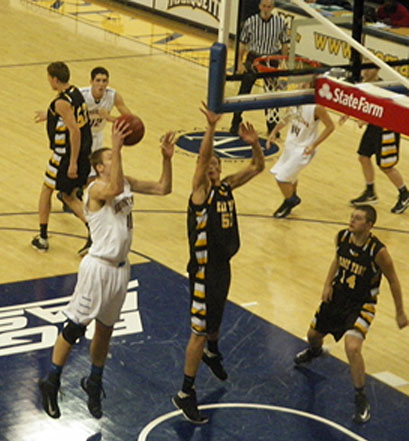 The early season matchup between the area's top-ranked team, Germantown, and No. 5 East Troy was worth watching, Dec. 22, at the Al McGuire Center, for about five minutes. That game closed out this year's Al McGuire Invitational.
By halftime, it was clear who was the better team. Both teams were familiar with one another in the Whiz Kids Summer League at MSOE. This was an early season test for the Warhawks that they needed and a litmus test of where they stood.
With the trio of senior guard Nate Dodge and 6-foot-9 senior forwards Alex and Brett Prahl, the Trojans should've had the upper hand. What they didn't have was a point guard to handle the pressure that Germantown brought.
From the beginning, the Warhawks didn't let up with their full-court press. And if East Troy got past half court, then big Luke Fischer waited by the basket to stop the break. And it showed on the Trojans' side with their multiple turnovers in the game.
Fischer, an Indiana recruit, controlled the paint on both ends of the floor, whether it was blocking shots on defense and posting up against the Prahl brothers, who are both headed to UW-Milwaukee to play for coach Rob Jeter.
Germantown showed no drop-off from last year's state championship team. They may even be faster and more athletic than the 2011-12 squad. Besides Fischer, they got contributions by juniors Jake Showalter, Lamonte Beaden Evan Wesenberg, Jon Averkamp and Dearionte Hudson.
Without that group, Germantown couldn't convert turnovers into fast break points. Their 20-8 second quarter run helped the Warhawks grab a 19-point lead at the half at 40-21.
The second half was absolutely bad for the Trojans. It appeared that they threw in the white flag in the third quarter, scoring only seven points and eight in the fourth. If East Troy, even with their two big men and Dodge, ceased putting up a fight and allowed the Warhawks to outscore them 40-15 after intermission, then maybe they should've stayed at home.
For the rest of the North Shore Conference, you might as well give Germantown another championship because they are unbeatable at this point. They should run the tables during the regular season and then we'll wait until next March to check their pulse when we expect to see them at state again.