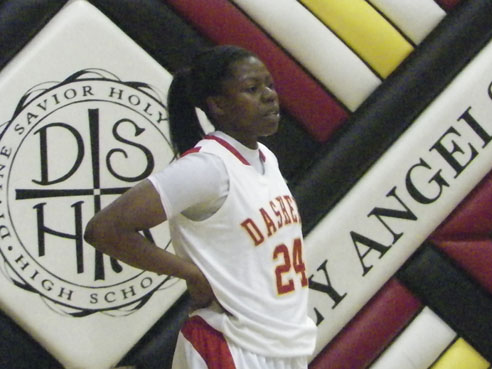 Don't think that Divine Savior Holy Angels forgot about what Menomonee Falls did to them last season - twice. How could they not have anything else on their minds leading up to their first meeting, Dec. 14, in Menomonee Falls?
The place will be packed for this very important Greater Metro Conference showdown, and it will be televised by Falls Cable Access Channel and some form of media presence from print will be present.
In 2011-12, it was a tutorial for star player Arike Ogunbowale. The good thing about her as a freshman last season was that she became a sophomore this season who knows that she has to bring it every time in conference play.
At DSHA, in the first meeting between the two teams, Ogunbowale erupted for 32 points in front of the home crowd, but the Dashers lost, 64-61, Dec. 16 of last year. Maybe she understood that all those points meant nothing because her team didn't walk away with the W.
The Indians frustrated Ogunbowale in their second meeting in the Falls early this year on Feb. 6. On that night, she was marked on defense and forced up a lot of shots, some out of frustration. It resulted in a scoreless first quarter, six at halftime and three in the second half while shooting 24 percent from the field in the game (4-for-17).
That might not be the case for Ogunbowale this time. Through the first seven games, she's averaging 19.7 ppg. It might be hard to stop her. In watching her at a recent game, she became an unselfish player, an area that wasn't always there last year, as her five assists and 10 rebounds per game demonstrates.
Sharing the basketball, as DSHA does, benefits Shaylan Reardon, who averages 13 ppg and Maggie Novak. The 9.4 ppg doesn't stand out for Novak as much as her draining 14 3-pointers so far. Maybe her stroke from downtown falls somewhere in the genes of big brother Steve.
It's no secret that DSHA wants to put teams away as soon as possible. Their average margin of victory in their six wins is 21.3 ppg. Their only loss was to Div. 1 state champion De Pere by 11 points. The team is averaging 54.6 ppg on offense and giving up 37.9 ppg on defense. Compare that to the Falls' offensive and defensive numbers (47.8 on offense and 41.6 on defense) and you know that the Indians are barely winning by the slimmest of margins (10.3 point average in three wins).
Now, the Falls can't just key on Ogunbowale. They have to account for Reardon and look for Novak to camp out beyond the arc. If there's nothing inside to Reardon, then Novak could be waiting to set up from the outside. This three-headed monster could get ugly for the Indians, but at least they will have the home crowd on their side.