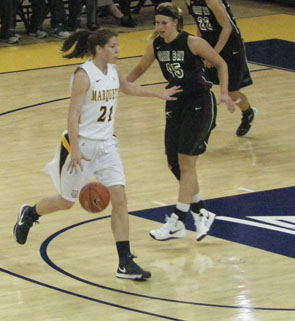 Milwaukee -
In their first half against visiting Green Bay, Dec. 8, at the Al McGuire Center, the Marquette women carried the wave of momentum into the locker room with a 3-point lead over the Phoenix. After massive pressure and costly turnovers in the second half, in addition to bad shooting, the Golden Eagles were blown away with a 55-46 loss.
When Marquette's lead swelled to as much as seven points in the half at 26-19, it appeared that they had the game under control. Green Bay closed the half with a 4-0 run to trail 26-23.
Heavy half-court pressure by the Phoenix forced Marquette into turning over the ball early in the second half. Their four steals led to a 7-0 run in a 3 minute 30 second span. And from there, Green Bay didn't let up as they led by as many as 14 late in the game.
Neither team shot well in the game, but Green Bay's points in the paint and points off turnovers was the difference in their win. Marquette hasn't faced that kind of pressure since their 76-72 loss to Georgia Tech, Nov. 18.
"They pressured us backcourt," junior Katherine Plouffe said. "They were all over our guards. We had high turnovers as well. We need to cut down on our turnovers and have a high shooting percentage."
If you wanted to point out what went wrong for the Golden Eagles, you can say just about everything. They shot 35 percent from the field, 32 percent from the three-point line and had 26 turnovers. Green Bay shot 38 percent. It was not much to write home about.
"We all know that the turnovers is what killed us," Marquette coach Terri Mitchell said. "I tried to explain a thousand different ways, and we were just rattled. The first half was great. I thought we settled down. We knew the pressure was coming and we didn't meet our passes. I take full responsibility for that because I want our players to be better prepared. If they're not prepared, then that's on me. I'm going to find a way to make this team better."
Marquette will have a week to work on things before their next home game, Dec. 15, against Toledo. It will be a special night as legendary Tennessee women's coach Pat Summit will be honored in support of her battle with dementia and Alzheimers disease on "We Back Pat" night. Senior Sarina Simmons was the only Marquette player in double figures with 10 points. Stephanie Sension and Adrian Ritchie had 14 and 17 points, respectively, for Green Bay.