Divine Savior Holy Angels are on a mission to showcase the talent that could get them to state in 2013. They are well- balanced on offense and tenacious on defense. And they have more weapons and ways to score points.
While most teams focus on trying to stop sophomore sensation Arike Ogunbowale, the Dashers have a copule of ways to conteract with opposing defenses when they make Ogunbowale a marked person.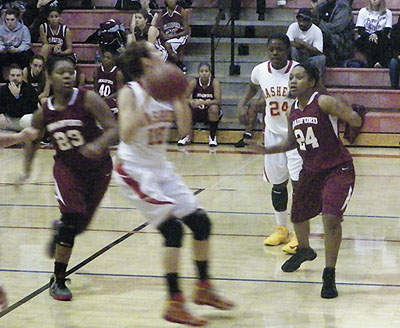 Ogunbowale doesn't have to be the leading scorer for 3-1 DSHA every game, even though she leads the team in scoring through four games at 17.2 points per game. If teams key on her, then teammates Maggie Novak and Shaylan Readon will hurt you.
Novak will step up and help with the scoring this season. Her three 3-point baskets against Kenosha Bradford, Nov. 30, in a 61-16 win, is a sign of things to come. She looks like a Novak, walks like a Novak and can stroke the shot from beyond the arc like her big brother Steve, who applies that trade for the New York Knicks.
Readon is second on the team in scoring with her 11.5 ppg average and Novak is third with an even 9 ppg. So what teams must know is that either way, they will taste the same bitter medicine when they drink the poison. Take your pick: Try to stop Ogunbowale and let Novak, Readon or both hurt you or stop Novak and Readon and let Ogunbowale have as many points as she wants.
To watch Ogunbowale is to see that she isn't a selfish player. When she's locked up on offense, she finds other teammates, and when she pushes the ball on the fast break, there are not too many teams in the state who can stop her from going coast-to-coast unless they hack her.
The Dashers can't wait for their first real Greater Metro Conference test at Menomonee Falls, Dec. 14. Look for them to get past Whitefish Bay on the road, Dec. 4 and West Allis Hale at home, Dec. 7.