WAUWATOSA -
Last Wednesday at Mount Mary College while watching the opening game of the Fresh Coast Classic Tournament the day before Thanksgiving on the first day between the Milwaukee South boys and Watertown, I overheard a coach telling someone who sat near me that Racine Case requested to play Milwaukee King. That wish was granted, but the Eagles should've taken it back.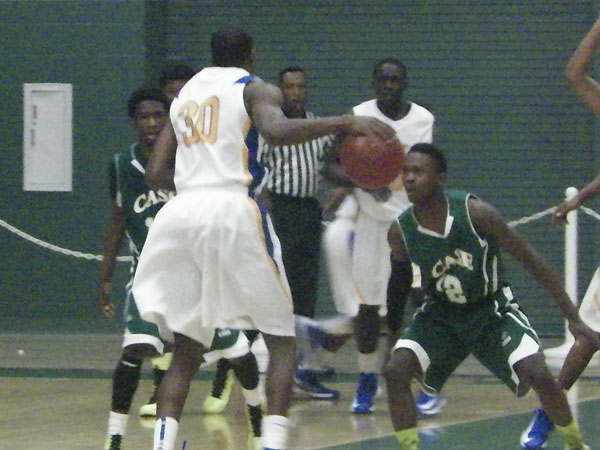 After the fourth-ranked Generals pressed and ran up and down the court against Case at Wisconsin Lutheran College's Rex Center, Nov. 23, the Eagles felt like they've been through a pressure cooker in their 72-58 loss.
King got 28 points from senior guard Austin Mitchell-Malone and improved to 2-0. It was the Generals who hit the ground running and never looked back.
What King lacked in size was made up in quickness and hustle. Plus, with the system that the Generals use, coach Jim Gosz can play 10 guys. Fresh bodies rotating in and out will wear down future opponents, and that's what the team is set on because they're on a mission.
Kevon Looney scored 50 points in his first game but was limited against Mukwonago in game that preceded King-Case. It was a test for Milwaukee Hamilton and one that they will learn from. The Wildcats may have some off nights from the 6-foot-8 junior, and that's when other people have to step up. David Burrell helped out with his 18 points to lead Hamilton.
On a night that the Indians targeted Looney to limit him on offense, it worked a little bit. He still had 15 points. Looney had the most impact on defense. He blocked at least eight shots in the game, and his length disrupted Mukwonago in their 52-44 defeat to the ninth-ranked Wildcats.
Looney thought that since the other team was trying to shut him down, he would dish out the same punishment that he got in the game. If you thought that Looney didn't like to play defense, then you were in for a surprise. Whatever it took for the 4-0 Hamilton team to win was all that mattered.
Whatever the Arrowhead ate for breakfast, lunch and dinner worked as they put a whooping on Milwaukee Riverside in the final game of the tournament, Nov. 24. The Warhawks led, 11-3 after the first quarter. The Tigers couldn't hit the side of the barn. This was a team that won the City Conference title in 2011 and are in the running for the title in 2012-13.
Even though Riverside lost some key players from last season and a key player who left the program to transfer to another school, they still have a squad that will need to work on team chemistry. Coach Tyrone Lewis probably doesn't want to hear that the team is in rebuilding mode, and he won't let his players think that way.
Arrowhead had six players who got a late start in the basketball season when practice began in early November. They were on the football team that ended their playoff run with a state championship. There was no dropoff in those guys as they're transitioning their bodies from football to basketball.
Billy Hirschfeld, Kenny and Ricky Finco, Brandon Kim, Jackson Abresch and Dominic Todarello didn't miss a beat. If Riverside hopes to play some defense one day, they must defend the three-point line. Arrowhead had 3 or 4 guys standing beyond the arc, waiting to shoot. They had five of them in their 56-41 win.
The Warhawks also got back on defense so quick that the Tigers couldn't run like they wanted to. So much for the knock on Arrowhead as beong a slow team. They ran up and down the court too.