Bay View boys coach Tyler Podoll proudly wore a green T-shirt with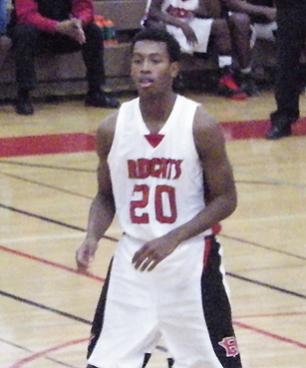 NDSU" on the front and "Go Bison" on the back before he slipped into a suit to coach his varsity team. The T-shirt was in support of his star senior guard.
But before Carlin Dupree can think about playing his ball at North Dakota State, he had to take care of business for the Redcats at home, Nov. 16, in a non-conference game against Nicolet.
From the start, it was evident that Dupree was struggling to find his shot. Chalk that up to first game jitters. The all City Conference player made a few turnovers and missed some shots, but that didn't rattle him. You didn't expect Dupree to start his last season at Bay View on a bad note.
The Redcats played from behind in the first quarter against the Knights. After Dupree hit a basket to give Bay View the lead for the first time, they didn't look back in their 69-63 win. He scored 26 points.
Some people might not mention Dupree in the same conversation as the City heavyweights like Deonte Burton, Kevon Looney and Austin Malone-Mitchell, but you can't sleep on Dupree. He will quietly make some noise and try to give the Redcats some respect and help them rebound from a losing record last season.
Nicolet was effective in playing zone to limit Dupree's path to the basket. Once they switched to man-to-man, Dupree got his rhythm going and the outside shot fell through the basket. But he can't do it alone. If Bay View stands around and wait for Dupree to carry them, then the results might be like last year.
Dupree will make his mark in the City Conference in 2012-13 then head to Fargo, ND next summer to join several players from Wisconsin who are already on the team. Head coach Saul Phillips will get a fine young man who will impress him. It also helps that assistant Will Ryan, the son of Wisconsin coach Bo, can keep that Wisconsin connection going with bringing in high school talent from the Badger state.