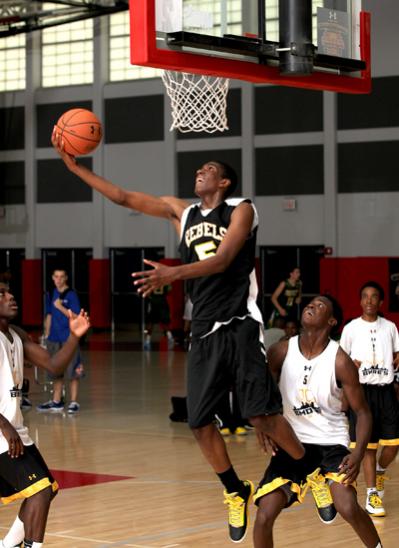 Just in case people forgot about mentioning Milwaukee Hamilton junior Kevon Looney as state player of the year candidate, he let his play do the talking a couple of days ago.
Never mind that Looney scored 50 points against Young Coggs Prep on Tuesday. You might not see many games that an individual player score 50 points in a 32-minute high school game. He scored as many points as the entire Coggs Prep team in an 85-50 win.
Looney is a great talent and has been ever since he played his first varsity game for the Wildcats. The question to ask is, how does the other team let one player score 50 points in the first game of the season?
That's actually scary for any future Hamilton opponents if they see Looney put up big numbers like that night in and night out. Most college basketball players don't put up a 50-spot in their careers.
Not knowing if Coggs Prep had enough size to match up with the 6-foot-8 Looney, he either was that dominant or Coggs Prep played matador defense. The closest recollection of a Tom Diener-coached player racking up that many buckets was when former all-state and City Conference player of the year Greg Brown of Milwaukee Vincent scorched Milwaukee King for 42 at Vincent when Diener coached there.
If Looney keeps up that point production all season, then he should be state player of the year. On the other hand, you might not see another performance like that from Looney if Diener dials the offense down a bit.
Some people who watched Hamilton's game against Coggs Prep probably thought that Looney could've stopped at 30 and shut it down for the night. Or, was Coach trying to send a message to every team that the Wildcats have to play?
Mukwonago will be good and ready for Hamilton on Nov. 23 when they meet at 6:30 p.m. at the Fresh Coast Classic Tournament at Wisconsin Lutheran College.