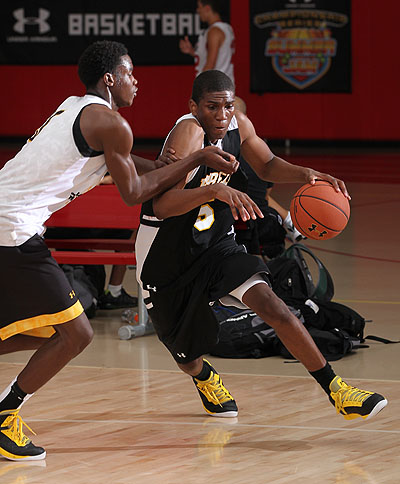 High school basketball in Wisconsin kicks off next Monday and I can't wait to see what's in store for the 2012-13 season. After a summer of watching AAU and summer league ball, it's time for the real season to begin.
The earliest that the boys can start practicing according to the WIAA is November 5. Prep football season is about to wind down and action on the hardwood will heat up. I'll be locked in and ready to see some exciting basketball from the boys as well as the girls. I'm ready to do this.
Before we get to the nuts and bolts of the upcoming season and who to watch for and all that stuff, let me give you a brief analysis of what will come to light when you watch the teams and the star players when you're sitting in the bleachers.
If you didn't watch Milwaukee Hamilton junior Kevon Looney last year, you have to watch one of the best all-around players in the state. He had a good AAU season and can play all five positions on the floor. Marquette is hard on his trail and has a good chance to get him to commit there.
I have only seen Whitefish Bay Dominican sophomore Diamond Stone once - on TV. I want to see how much he matured on the court for the state champs. Another thing to watch with Stone is how he will adjust to a new coach after Paul Wollershiem stepped down as coach and athletic director.
Germantown is still the team to beat in the playoffs until someone knocks them off. Coach Steve Showalter pulled off what I called the trifecta in high school ball: Conference, state and summmer league champs. I talked to Showalter recently, and he had mixed emotions when he sent his oldest son, Zak, off to college at Wisconsin.
But don't feel sorry for Germantown, because the competition won't. Their cupboard is not bare as they still have their big man in the middle, senior Luke Fischer, who's committed to Indiana, and Showalter's youngest son, Jake, who is a junior. Showalter says the team is intact and ready for action.
Milwaukee Riverside was in line to win the City title next season until D'Andre Downey transferred out. The Tigers still have enough talent to compete in the City Conference. Vincent might give them a challenge, and Riverside owes them anyway for the Vikings beating them on their own floor last season. King and Washington will also be in the mix.
Wait until new Vincent boys coach Marquis Hines gets done with that team. They will be one of the best lockdown defensive teams in the conference. He will get rid of the bad attitudes that plagued them the last few years when John Allen was in charge. The boys will have to check their egos at the door or turn around and exit stage right.
So there you go. A little bit of something to look for later this month when the real games count.