Marquette
picked up a commitment from
John Dawson
, a 6'3 guard from
Clovis, New Mexico
. As a junior, Dawson averaged 18 points, nine assists, six rebounds and three steals per game. For his efforts, Dawson was named First Team All-State for 5A.
First we talked with his father, Pastor D.D. Dawson for his thoughts
, and now we check in with John Dawson to talk about his decision.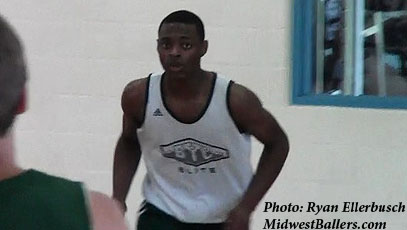 The decision about which college to attend had been weighing heavy on John Dawson, and with 37 different schools vying for his services, he had his work cut out for him. He talked with his parents, talked with coaches, friends, and he prayed.... a lot. But it wasn't in those discussions where he decided to attend Marquette and play for
Buzz Williams
. "I had a check off board where I had everything laid out. I know that basketball is basketball, so wherever I went I had to go for the right reasons. I was actually at a soccer game when I made my decision. I got the feeling, I could feel it in my gut. I prayed about it and got confirmation. It feels great, like a weight has been lifted off of me. "
From there he went home to talk to his parents about his decision, but with Marquette being so far from home, his parents might have had concerns. "My parents are very proud of my decision. I think my mom took it better than my dad did. My dad was emotional, but my mom could not stop smiling. She was smiling from ear to ear - she really wanted me to excel, and she knew it was the right decision. The distance really wasn't an issue because my family was behind me, they knew I would put myself in the best position."
Next Dawson needed to inform the Marquette staff. "When I told them,
Brad Autry
was really fired up. Buzz was fired up too, they were really excited, and they were really excited for me."
Dawson joins an impressive list of players that have committed to Buzz Williams without ever stepping foot on Marquette's campus, so what drove his decision? "Prayer and faith in God were the key sources in my decision. This is a big opportunity for me, and Marquette really fits my style of play, and they will really help get me ready for manhood, they will help prepare me for my future."It all started off with a guy at a tournament telling Coach Autry about me. After that he watched some film, and then he called and told me that he wanted to coach me. He said he would coach me and push me harder than I have ever been pushed, and that is what I really need and want. Our relationship grew from there."
With Brad Autry developing and building a strong relationship, it was time for a visit from Marquette head man Buzz Williams. "Both visits went very well. Buzz was the same as with Brad Autry. They walked in and got straight to the point. Buzz told me he would coach me harder than I have ever been coached. He told me all about his life, where he was from, and how they do things at Marquette. He left no stone unturned. It was very impressive. They didn't leave me believing that they were putting on a show. It was real, they were real."
Coming from a religious family with a father as a Pastor, Dawson says that Marquette being a Catholic, Jesuit University along with Buzz Williams' strong religious beliefs did play a role in his decision. "Religion did come into play with my decision. It plays a pretty big role in my life. Not only did Buzz Williams believe in me and pray with me, but he assured me that no one would degrade me for what I believe."
Playing in the Big East did have an impact too. "Playing in the Big East, the tournament in Madison Square Garden - that is all part of the opportunity. That is the biggest stage, and my father said that too. You want to compete against the best of the best, and that is what I will be doing."
Dawson describes himself as a laid back, and thinks his teammates would describe him that way. "I'm pretty quiet. I play the drums in church. I like to play a lot of 2K with my little brothers. I will try to do as much of that as I can, because when I get to college, I'll be spending my time studying."
There is time before Dawson arrives on Marquette's campus, and winning a state championship would be the way he would like to leave Clovis. "Winning the state championship would really mean a lot. Clovis hasn't won it since 1979, so it would mean so much to so many people if we could bring it back. That is how we want to leave our mark, State Champions of New Mexico."
From there it will be on to Marquette.... "I am proud to be a part of the Marquette family, I want to become someone that they know they can depend on."
Next up: There is no question that this was a great pick up for Marquette and Buzz Williams off the court, in our third part of this series we will talk to John and his coaches and look at what Marquette will be getting on the court.