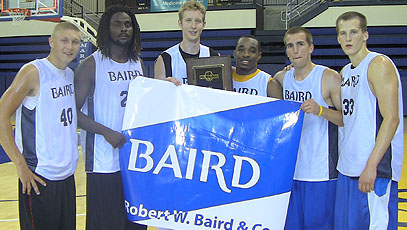 Everyone loves to follow the Cinderella story in the NCAA every year. There is always someone, from somewhere, that pulls off the bigger than big upset - David vs Goliath. However, the glass slipper usually breaks as they fall in the end. The ending of the
2012 Scion Dental Milwaukee Summer Pro-Am
was no different, except this time Cinderella came out on top.
Going into the final night of league play, the
Robert W. Baird
team was sure to be seeded last in the tournament. Led by
Marquette
players
Jake Thomas
and
Derrick Wilson
along with
Belmont's Drew Windler
,
Baird
only had one win and was going up against
Junior Cadougan
and
Scion Dental
, another expected loss. But something changed. Baird came out and played a zone defense. "Jake suggested we play a zone so we figured we would give it a shot and we really came together." said Drew Windler. It was as if the opposition was playing a different sport. Led by Drew Windler (24) and
Austin Stueck
(19),
Baird
ran away with that one 105-89, with six players finishing with double digits and a seventh had 8.
Coming into the tournament seeded 7th, Baird was to face off against
Kameron Cerroni, JJ Panoske
and #2 seed
Schell Dentistry
.
Schell Dentistry
had been one of the strongest teams all summer, but after losing both
TJ Bray
and
Jimmy Sherburne
of
Princeton
to injury and
Kyle Kelm
being out of town, they were short handed.
For the second time in two games,
Baird
came out in a zone defense and
Schell Dentistry
had no answer. Once again
Baird
ran away with it, 91-63. Jake Thomas led Baird's balanced attack with 21 points, Drew Windler added 17 and
Garrett Swanson
pulled down 10 rebounds.
Zone defense. Three games, three upsets. Up next is the championship game against
League MVP Dejuante Wade
and
BrewCityBall.com
, the league champions and overall #1 seed.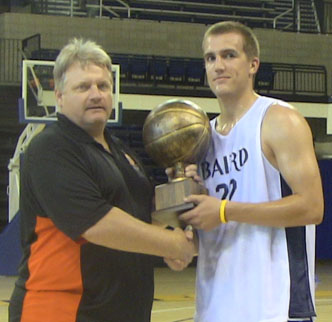 Playing without former
Wisconsin
player
Boo Wade
due to injury,
Baird's
zone defense cause problems for
BrewCityBall.com
as well. Despite a few strong runs in the 3rd & 4th quarters,
Baird
cruised down the stretch for a 93-74 win. Jake Thomas led the charge in the title game. The walk-on from Marquette could not be stopped, finishing just 3 rebounds short of a triple double. On the night he had 35 points (6-9 from 3pt), 10 assists and 7 rebounds. With his performance and leadership throughout the tournament, there is no question that Thomas was the tournament MVP. "It feels great." Said Thomas, "We finally played together as a team, and we really got it going." When asked about his call on the zone defense, Thomas wouldn't take credit, "Me and Derrick (Wilson) had been talking about it and we decided to bring it up with the team. It was both of us, I was just the one that said it to the team. Everyone thought we should give it a shot, we had a great group of guys on this team." In the tournament Thomas averaged 24.3 points, 6.7 assists and 3.3 rebounds per game.
Thomas wasn't alone in the final, as the supporting cast was certainly pulling their weight. MSOE's Austin Steuck finished with 27 points, Drew Windler who is transferring from Samford to Belmont recorded a double double with 10 points and 10 rebounds, and also had 6 assists.
For BrewCityBall.com Dejuante Wade dropped 26 points and 12 rebounds,
UWGB's Carrington Love
had 21 points, 12 rebounds and 6 assists and Antwand Roshell had 16 points and 9 rebounds.
Baird vs BrewCityBall.com
No
Names
FT
2 pt
3pt
Asst
Dunk
Reb
Blk
Stls
Fouls
Total
1
Drew Windler
2
4
6
2
10
4
3
1
10
10
Jabrelle Smith
12
Derrick Wilson
3
4
4
5
2
3
11
22
Jake Thomas
5
6
6
10
7
3
35
33
Garrett Swanson
1
3
2
1
5
2
7
40
Austin Stueck
9
3
3
2
2
4
27
44
Darnell Harris
1
1
3
10
4
3
93
BrewCityBall.com vs Baird
No
Names
FT
2 pt
3pt
Asst
Dunk
Reb
Blk
Stls
Fouls
Total
1
Carrington Love
1
6
2
6
12
21
7
Xavier Johnson
3
1
2
1
2
1
1
9
12
Dejuante Wade
2
12
1
1
12
1
26
14
Alton Jackson
4
5
1
3
4
31
Antwaun Rochelle
2
7
9
1
3
16
33
Arking Wade
1
44
JP Gavinski
1
1
9
1
3
2
5
29
3
14
2
50
4
3
12
74