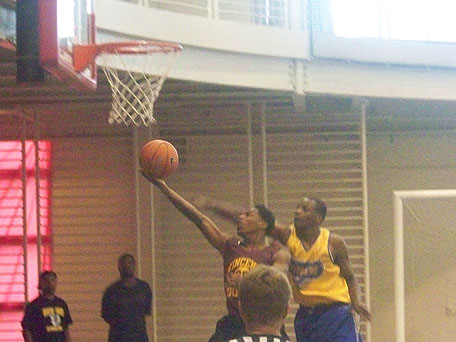 If Milwaukee Vincent wants to beat Germantown for the Whiz Kids championship Thursday at MSOE, they have to limit their turnovers. They had plenty of them in their semifinal game Tuesday against Milwaukee King, and their new head coach, Marquis Hines, let them know about it after their 63-55 win over the Generals.
Hines took advantage of the limited summer contact days he has with his team to stress the importance of taking care of the ball. That was no problem in their first playoff game in a 66-55 win over Sheboygan North.
The heat was turned up with intensity with both King and Vincent pressing and playing aggressively. What else is new when these two teams meet?
Germantown had no problem with Brookfield Central in their first round playoff game and managed to handle East Troy with ease in their semifinal game, 80-69.
The Warhawks handed the Vikings their only loss, a 75-62 defeat. This would have been a much-anticipated Sectional 5 final in 2013, but the WIAA put Vincent into Sectional 8 last year, which is the toughest in the state. If Vincent remains in Sectional 8, they will have to scratch and claw to make it to Madison.
For several years, past Germantown teams ran into a roadblock Sectional 5 that Vincent won going away. The Warhawks finally got over that hurdle when they beat the Vikings for their first trip to state in 2008.
So for now, this is the closest these two teams will get to rehash some memories. One thing to note: The Whiz Kids Summer League champions aren't the runaway favorites to win state, but at least it gets the conversation going until next March.
.