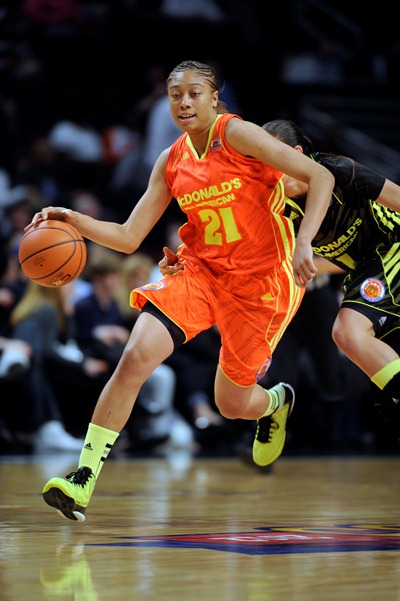 CHICAGO -
It appeared that the McDonald's All-American girl's game would go into overtime, but a last second foul and a made free-throw by the East team gave them a 79-78 win, Wednesday, at the United Center.
The game was tied at 78-78 with 16 seconds left in regulation.
Bashaara Graves
got the offensive rebound from a missed shot by teammate
Alexis Prince
, who won game MVP honors.
Katie Collier
of the West fouled Graves. she made 1 of 2 free-throws that ended the contest.
"I was ready for it to be over," Graves said. "I still wanted to play. It was fun playing on the court, knowing that all the greats have already played on it." She scored only seven points but grabbed 12 rebounds.
"I was happy that we got the win," Prince said. "If I wanted the game to go to overtime just to keep playing . . . I had fun out there just playing."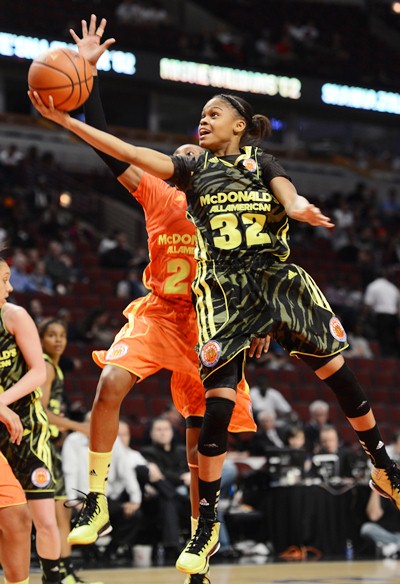 The first points of the game came from the East 1 minute 7 seconds into the first half on a layup by
Brittney Sykes
. The East led from start to finish. Their biggest lead in the half was 16 points. They went into the locker room with a 40-31 lead.
In the second half, the game was tied at 50-50 and 52-52 before the last tie at 78-all. The West cut the East lead down to 78-76 before Collier's two free-throws knotted the game and set up the final play by the East. Despite
Nirra Fields
' 20 points, which led all scorers, the West's rally fell short.
"Obviously, I wanted to win, but it (didn't work out)," she said. Fields, UCLA-bound from Mater Dei (CA), is the first Canadian-born girls player to play in the All-American Game.
"I thought that once we got our nerves settled a little bit, we came back and played hard," West coach
Tanya Johnson
said. "I've seen a lot of McDonald's All-American games, and I thought that this was one of the most unselfish games. I thought both teams played well. You didn't see a lot of running and gunning out there."
Prince led the East with 15 points.
Bria Holmes
scored 13 and Sykes had 12.
Morgan Tuck
scored 18 for the West and
Moriah Jefferson
added 10.
The game was played using college rules, which included 40 minutes instead of 32, a 30-second shot clock, the college three-point line and media timeouts.