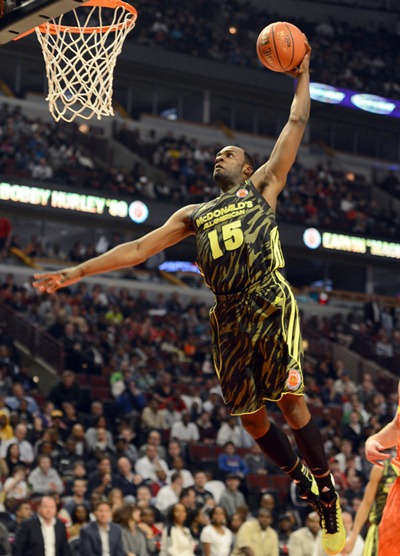 CHICAGO - Shabazz Muhammad
, the No. 2 player in the country, put on a show in the 35th annual McDonald's All-American Boys Game at the United Center in Chicago, Wednesday with his 21 points in 22 minutes. He earned MVP honors in leading the West team to a 106-102 win.
"It means a lot," Muhammad said of the MVP award. "There are so many talented players out here. It was just fun tonight to play with everybody. Everybody are just terrific players and just to win that game MVP was a really good thing for me and our team played really well also."
The national high school player of the year had a great career. He knows that working harder will silence the critics who thinks that his production might drop off at the next level.
"Just not being satisfied," Muhammad said, when reminded that only one McDonald's All-American MVP failed to get drafted by the NBA (
Ronald Curry
). "Winning all this stuff is a beautiful thing, but I'm always staying in the gym and staying humble. Just knowing that my next step is on to college (will prepare me)."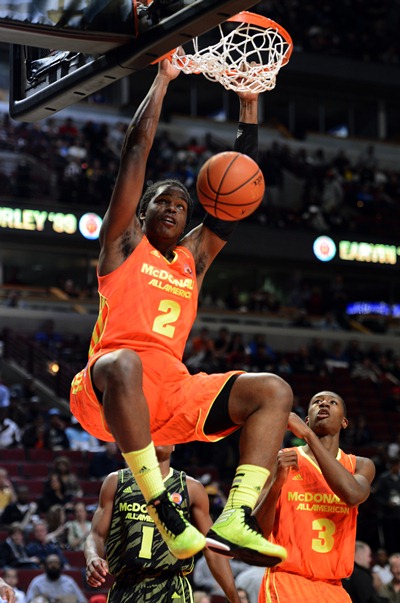 Muhammad hasn't made up his mind where he wants to play college basketball. There's a chance that he might go to Kentucky. If NBA Commissioner David Stern hadn't put the minimum age requirement to enter the draft into place, he would've entered the draft. Another option for Muhammad may include playing overseas for a year, then enter the draft in 2013. That's what
Brandon Jennings
did in 2008 instead of going to Arizona as it was planned. Jennings threw his name into the draft in 2009 and was selected by the Milwaukee Bucks.
"That's a great possibility," he said of playing for the Wildcats. "
Alex (Poythress)
was giving us a hard time on the boards with his big body and playing the perimeter at 6-8. And you got
Archie (Goodwin)
who can go down the floor and jump and dunk on somebody or can take you out to the perimeter. That would be a really sick trio if I did come to Kentucky. Just really looking at that closely and knowing that there's really good players that's going into next year and it could be a really good recruiting class."
Muhammad played at Bishop Gordon High School in Las Vegas. In the first half, he scored 15 points and made four of five dunks in the game. Muhammad led five West players in double figures.
Rasheed Sulaimon
has 18, Goodwin finished with 14,
Cameron Ridley
added 12 and
Brandon Ashley
had 10. Poythress led the East with 19,
Rodney Purvis
finished with 15,
Kyle Anderson
added 14 and
T.J. Warren
and
Tony Parker
each had 10.
The all-star games will be at the United Center for the third straight year in 2013.