Ten months ago Buzz Williams turned down offers from Big XII power schools Oklahoma and Texas A&M. He said no to Arkansas from the SEC and two years ago, he turned down PAC 12 power Oregon. So, should Marquette fans be concerned that SMU from C-USA is knocking on the door? The answer is yes.
I have learned that SMU has requested permission to speak with Buzz Williams, and Marquette has granted permission to SMU.
When Williams turned down Oklahoma, Arkansas and Texas A&M last year, he explained that his reason was, "You don't mess with happy". So, how could a coach, fresh off of back to back Sweet 16s, go from "You don't mess with happy", to "Yes, I am interested"?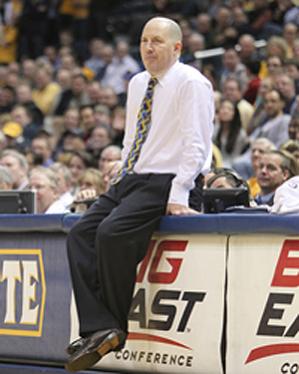 SMU is reportedly prepared to offer Buzz Williams $2.6 million per year, but money isn't the issue, it never has been with Buzz. Oklahoma offered more than MU and he turned them down, Arkansas and Oregon would have paid more too. With Williams it has always been about three things.....
His family
His beliefs
Relationships
His family has been very happy, afterall, it was his wife Corey who was the one he quoted when he said, "You don't mess with happy". Listening to him speak at the press conferences in Louisville are proof that his religious and personal beliefs are strong and deeper than ever.
The only things that have changed are the relationships. The people that hired Williams are now gone. Former President Fr. Robert Wild has retired, as has Sr. VP Greg Kliebhan, and former athletic director Steve Cottingham resigned after alleged assaults by athletes gave the university a black eye. Those that have replaced them are university president Fr. Scott Pilarz, Senior VP Mary Stanislao and athletic director Larry Williams. Pilarz arrived last summer, Williams in January, and Stanislao last month.
The new leaders at Marquette are sure to want to implement changes, as would anyone in their position, but building strong relationships takes time.
In a lot of ways, Buzz Williams is a lot like Al McGuire. He marches to the beat of his own drum. His leads people to believe that he isn't the smartest guy in the room, when deep down he could out smart anyone at any game, basketball just happens to be his vehicle. Williams is an innovative and ingenious thinker whose methods may seem strange, but all have deep seeded reasons and meaning. His religious dedication and desire to help those that have not often been given a chance are right in line with Marquette's Jesuit beliefs. Buzz Williams and Marquette are a match made in heaven, or at least it seems that way on the surface.
How this situation will play out is anybody's guess, but one thing is sure, if Williams does leave for SMU, Marquette will have a very hard time finding a replacement that is on the same level as Buzz Williams.