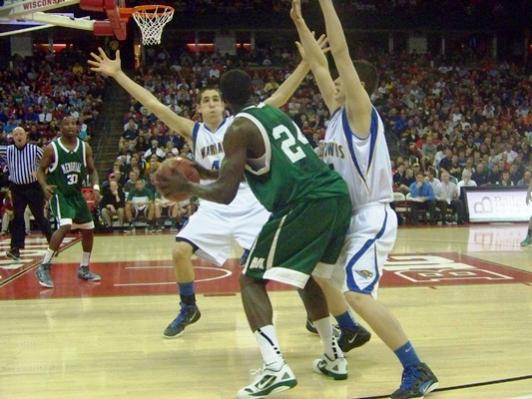 MADISON -
How would you like to face a team that will run you through the pressure cooker? What about two teams putting each other through the meat grinder? That is what you should expect to see when top-ranked Germantown and Milwaukee King face each other for the Division 1 state championship tonight.
If you want to see who the best large school team in the state is, go to the game at the Kohl Center or watch it on TV. After tonight, one of those teams will be on top and raise the gold ball in the air. It's a No. 1 vs. No. 2 dream matchup and a David vs. David battle.
King coach Jim Gosz thinks he can beat the Warhawks if his guys make more shots and outwork the undefeated squad on the other side. A disadvantage of size is what the Generals are up against.
When Germantown presses, if you get past half court, then you have to deal with two guys near the basket who are 6-foot-8 and 6-10, and one of them might block the shot if you drive on them. On the other hand, Germantown must prepare to hold the ball high and not low because one of the smaller King guys might strip the ball from them.
Zak Showalter is on a roll. His outstanding showcase of talent against Madison Memorial Friday was sick. He dunked all over the place, threw fancy passes and put the team on his back. Maybe he took it out on Memorial as a payback from what the Spartans did to them in 2009 in the state tournament when he was a freshman. Did he have a chip on his shoulder after learning that he wasn't voted Wisconsin's Mr. Basketball, which went to Sam Dekker of Sheboygan Lutheran?
This will be the most anticipated game of the year. You're talking about a heavyweight fight with both teams going blow-for-blow. In the end, Germantown's size should wear down King. The Generals' tallest starter is 6-5.
The emphasis will be on Germantown bringing home the gold ball. They have some state football championship trophies in the case. There are some sectional championship plaques there, but the trophy case isn't complete until there's a gold ball resting behind the glass, not the silver ball for runners-up, but gold.
King has some gold balls in their case already. Gosz was a part of four of the five gold balls that graces the halls of their school. He would like another one and why not? It would be payback to the WIAA for excluding them from the playoffs back in 2009 due to rule violations.