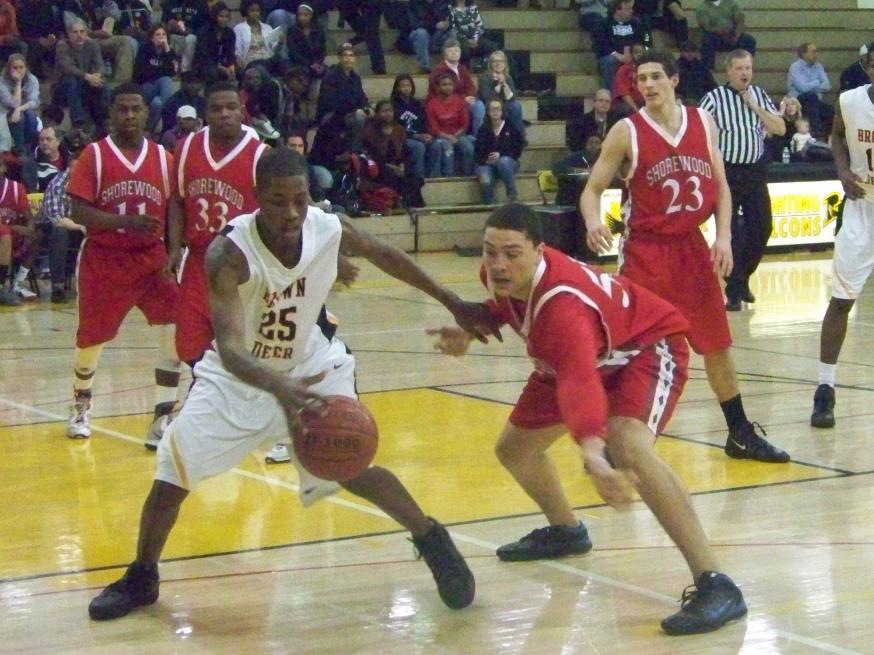 BROWN DEER -
Cinderella almost pulled it off.
Shorewood
was clearly the underdogs in the opening round of the WIAA Division 2 playoffs against
Brown Deer
at Brown Deer. The Falcons were the favorites to beat the Greyhounds and run them out of their own gym.
A funny thing happened though. Brown Deer, superior in size, speed and athletic ability, ran away with a 20-7 advantage in the first quarter and led 38-19 at halftime. Then Shorewood, who was looking down at the barrel of a cannon, woke up and went on a 25-9 run in the third quarter to knock a 19-point deficit down to three at 47-44.
And you know who was nervous? The Brown Deer fans and their coach,
Kelly Appleby
. Legendary coach
Phil Jones
, who knows a thing or two about playoff pressure from his days at Milwaukee Bay View, wasn't fazed. He still has the ability to coach any team if he had the right kind of players to fit his system, which he doesn't.
Someone told me that Appleby is a first year coach at Brown Deer. He was really sweating because Shorewood regained momentum by tying the game at 47-47 with 7 minutes to go and then went ahead on a three by
Deion Jackson-Body
to lead 50-49moments later.
Both teams went back and forth until Brown Deer got clutch free-throws down the stretch to win 66-64.
How did Brown Deer let Shorewood back into the game in the second half? They went away from running their offense and passing it around for a good shot outside and pounding it into the post inside. That worked for them the first half along with their full-court defense.
When they started playing one-on-one ball and missing shots, they gave the Greyhounds the opening needed to mount their comeback. The Falcons came back to what worked in the first half late in the game, and held on for the win.
After the buzzer sounded, the players were celebrating on the floor like they won the state championship. What was there to celebrate? They have to game-plan for Milwaukee Washington on Friday at Washington and play on their cement floor that's about 50 years old.
The Purgolders struggled early in the season, but they got it together and should give Brown Deer a good run. The Falcons are deeper and more balanced and should win the second round game.