This was posted on our premium message board by a long time fan. I wanted to publish it as it perfectly sums up the feelings of a lot of MU fans. The poster gave the approval, but wanted to remain anonymous.

HOPE
This is a bit of a confession and mea culpa to all of you (hopefully there's a legit priest among you).
I have been a gigantic Marquette hoops homer since 1996 when I started as a freshman. I spent many an hour trudging back and forth across the MKE courthouse shortcut to watch Marquette play Western Carolina, Eastern Illinois, Southern Miss, and Northern Arizona (along with Bucky, Cincy, DePaul and so many others). After undergrad and grad school, I moved to away from campus and kept up the pace, moved to the burbs and kept it going, dragging my wife along all the way. Through thick and thin, I was there for all of it. Got into recruiting, would obsess about Martin Bruenig and Bryce Webster and Lance Stemler updates, got to meet and know some of you along the way.
I have so many great and a few bad memories. One of my favorite memories was my 9+ month pregnant wife carefully walking all the way down all the stairs to the Bradley Center floor so we could walk up behind the hoop to our seats for the Senior Night game against Notre Dame. I was carrying my 2-year-old and she was carrying a 10-pound bowling ball. People's mouths were agape watching her step down and then up all those stairs. We had a bet all year about whether we would be at that game. She won. As did Marquette, by a ton.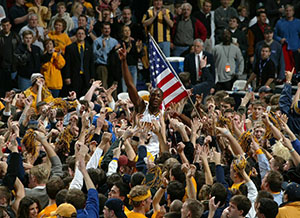 I of course remember running out of my campus apartment in jubilation as we put the final bow on a destruction of #1 Kentucky and ran with 10k people down to Lake Michigan; one of the best days of my life. I remember the day Crean got Dominic James and Jerel McNeal to commit, with Wes Matthews close behind. I remember Mike Kinsella hitting threes and beating a top Pitt team with McNeal on the shelf, beating a bitchy Pitino in a white suit, Novak's shot against ND with my ears splitting due to too many BC decibels. I also remember the unfortunate Ryan Amoroso forearm that cost us against Louisville, "Tom Crean's a Fool Day" on April 1 that took us by surprise all those years ago, the Marquette Gold controversy. The list goes on and on. I was there for all of it.
We moved from Wisconsin years ago, which was so tough as it meant I had to stop physically going to every game. I absolutely tried to keep up. Figured out a way to watch or listen to almost every game, still followed recruiting, still got nervous about the Badger game and other big tilts each year. It got harder and harder to do so with my job and growing family, but I tried really hard.
Something happened the last couple years and it coincided with the collapse that led to Murray State demolishing us in the Tournament that year. I lost all zest for MU hoops. I felt like the biggest fair weather fan, but I just couldn't get excited anymore. I was apathetic and frustrated. It felt like all hope was lost and the future didn't look bright anymore. I started missing games when they were on TV. I started turning games off when we would blow a lead. I stopped following recruiting as closely. I started saying things like, "we haven't played defense since our family left Milwaukee." It felt like a page had been turned in my life and in my priorities.
The hire of Shaka Smart has been like a damp fuse being lit again. It has been honestly exhilarating to be excited about Marquette again, like catching up with a very familiar old friend that you'd forgotten. I feel really guilty jumping back in like this, but I have texted several friends, and I don't think I'm alone on this front. The end of the Wojo era made a lot of people lose their interest, it seems, and this jolt of energy and activity was much needed for the entire fan base.
I don't know where it is heading. Shaka could underwhelm us; it's possible. But looking at the way he's handled the first three weeks of his tenure, I find myself optimistic and HOPEFUL again. Wow, what a feeling.
I'm reminded of this quote from the character Andy Dufresne in The Shawshank Redemption:
ôRemember, Red, hope is a good thing, maybe the best of things, and no good thing ever dies."
Marquette basketball is a good thing. We are going to rise from the ashes, gentlemen.
So, bless me fathers, for I have sinned. But I am back and I am ready to redeem myself. (Bleepin') Ring Out Ahoya!