Every year the college coaching carousel starts spinning and no one knows when it will stop. Many thought it wouldn't spin much this year with it being a "Covid year", but it started before the season even ended and continues today with even more coaches being let go and replaced.
Marquette jumped onto the carousel this year and it is still spinning. First assistant coach Dwayne Killings left to take the Albany job. Not long after, the administration decided to replace Steve Wojciechowski with Shaka Smart ending seven years of
#DoneDeal
.
Next MU Director of Basketball Operations and MUBB Community favorite Dan Madhavapallil left to join Killings at Albany. Killings wasted no time filling out his staff and kicking things into gear as Killings hosted a Zoom meet and greet and scheduled a Virtual Chalk Talk with the coaching staff where high school coaches can learn from the staff. It will be hosted by Danny Mads who hosted two of these last summer at Marquette.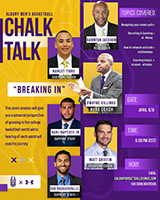 At Marquette its been nothing but moves and questions.
Rob Judson and Jake Prescutti are gone from the staff and Prescutti left with pure class as he tweeted out a thank you to the Marquette community. He even signed it with the Milwaukee Tool Font.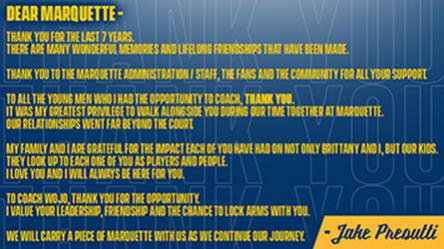 So who will fill out Shaka Smat's staff? We have some ideas, but not all.
Justin Gainey is likely gone as there have been rumors of him joining the staff at Xavier or Tennessee, but the Rocky Top rumors seem to have legs to them as he may replace assistant Desmond Oliver according to
@CommonVol
.
**Update: As of 4/10 Justin Gainey has been removed from MU's website, so he is headed elsewhere.**
So who is expected to fill the three empty slots with the Golden Eagle staff?
1)
Cody Hatt
- The worst kept secret is Cody Hatt following Smart to Marquette. Over the last two weeks Hatt started following Marquette recruits on Twitter, followed by former MU players and now he has decorated his Twitter profile with a Marquette logo and Fiserv picture. So even though there is no release from MU yet, welcome to Marquette Coach Hatt!
2)
Neill Berry
- Berry would be another coach to follow Smart from Texas to Marquette. berry has been an assistant coach for 15, prior to Texas he was at Iowa State, South Carolina and Western Kentucky. He does have a connection to Marquette in a round about way. When Western Kentucky hired Marquette assistant coach Darrin Horn to take over their program, and Horn hired Neill Berry as an intern. From there he worked his way up to assistant coach. When Horn took the South Carolina job, Berry came along as Director of Development and worked his way up to Assistant Coach.

3) There have been more rumors and suggestions about what Smart is doing with the final spot, some say it could be a big name, some say it could still be Justin Gainey and others say about every name that is out there, but Smart won't let this out before its done, so we'll have to wait and see.
Then comes the support staff: Director of BBall Opps, Special Assistant etc. Who will fill those roles? Experienced coaches? Young up and comers? My guess is that Travis Diener might be in the mix somewhere, but who knows where.
The Coaching Carousel just keeps on spinning