Saturday could not be a bigger day for the Big East:
Villanova @ Georgetown
Marquette @ St. John's
Seton Hall @ Creighton
Butler @ Xavier
As it stands right now, the Big East Tournament looks like this…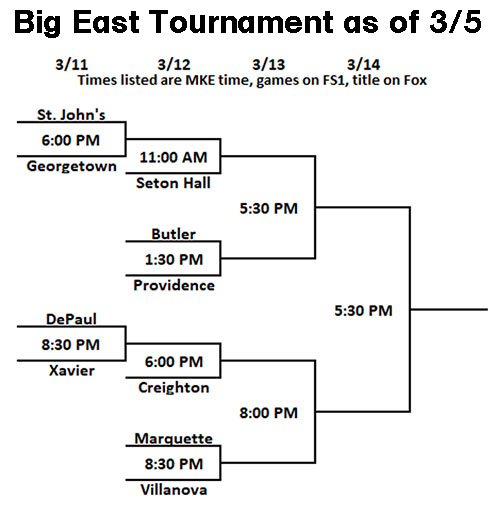 The battle for the Big East title between Seton Hall and Creighton in Omaha is a true battle. As it stands now, Seton Hall is above Creighton in the top spot with a 13-4 record over Creighton's 12-5. If Seton Hall wins, they win the Big East outright. If Creighton wins, Seton Hall and Creighton would be tied, but Creighton would sweep the head to head, but hold on to your beer.
Enter Villanova. Villanova also stands at 12-5 heading into their final game at Georgetown. If Creighton beats Seton Hall and Villanova beats Georgetown, it all comes down to head to head…
Creighton sweept Seton Hall.
Seton Hall split with Villanova.
Villanova split with Creighton.

1) Creighton 3-1
2) Villanova 2-2
3) Seton Hall 1-3
Marquette's situation is similar, and the goal here is to avoid the DePaul Invitational on Thursday. Marquette needs to win at St. John's.
Butler plays Xavier. If Butler beats Xavier, win or lose, Marquette gets the 6 seed and avoids the DePaul invite as Marquette owns the tie breaker over Xavier having swept the Muskateers.
If Xavier beats Butler and Marquette wins...
Marquette sweept Xavier.
Marquette split with Butler.
Xavier would then be split with Butler.

1) Marquette 3-1
2) Butler 2-2
3) Xavier 1-3
Marquette would get the 5 seed, Butler the 6 and Xavier the 7 seeds.
If Marquette loses and Xavier wins, the Butler Xavier tie would depend on who wins title. If Seton Hall wins title, Xavier is 5 seed, if Creighton wins title, Butler is 5 seed.
The only way Marquette plays in the DePaul invitational is if they lose to St. John's and Xavier beats Butler. (Thank the diety that St. John's no longer has Shamorie Ponds. )