MILWAUKEE -
Marquette Head Coach Steve Wojciechowski received another commitment for the class of 2017 today as 6'3 guard Greg Elliott from East English Village in Detroit committed to playing for the Golden Eagles. Elliott's commitment is the fourth in what looks to be a stellar class, and the third from the Detroit area.
Ike Eke - 6'9 Forward, Detroit Jesuit HS, Detroit, MI (Nigeria) - Committed 6/19/16
Theo John - 6'9 Forward, Champlain Park HS, Champlain Park, MN - Committed 9/13
Jamal Cain - 6'7 Wing, Cornerstone Academy, Detroit, MI - Committed 9/17/16
Greg Elliott - 6'3 Guard, East English Village, Detroit, MI - Committed 4/4/17
In today's age of basketball many recruits commit prior to their senior season, but through the summer and into his senior campaign, Elliott's stock continued to rise. This year he averaged over 28 points and 9 rebounds per game and East English plays in the always tough DPL. With the stock rising so did his options, and in the end the standout guard picked Marquette over in-state power Michigan State and Big East foe Providence.
"It feels great to have made the decision. I wanted to make sure it was what I wanted so I took my time, I needed to make sure I was comfortable."
The two biggest factors in his decision were the Marquette coaching staff and his relationship with future Golden Eagle Jamal Cain.
"Wojo and I got real tight. Once they offered me he came to see a lot of my games, he was here a lot. Also Coach Stan Johnson, that's my guy right there. Coach Stan and I got real close. That and the way they play. Their offense & defense are very similar to what I played in high school so it should be a pretty smooth transition for me."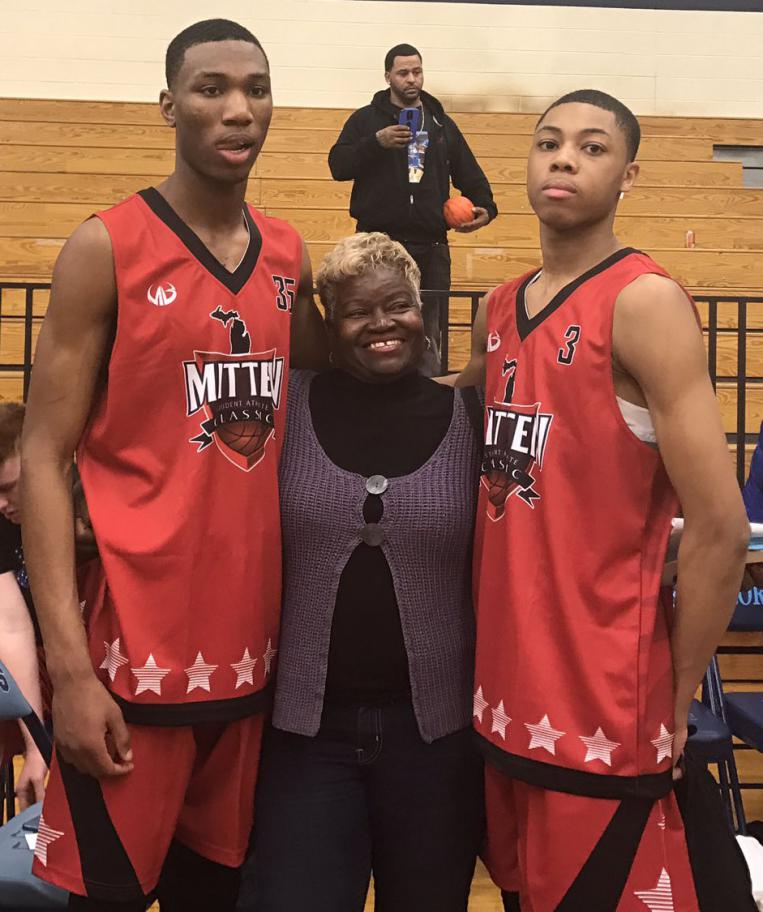 Elliott, Cain and Eke played together for one of the best AAU programs in the country in The Family. Cain predicted a while ago that Elliott would be joining him at Marquette.
"Ike played with us last year but Jamal and I have played together for four years. It will be great playing with him. They never really pushed it with me, they joked around about me coming to Marquette, but they let me go through the process and make my own decision. I'm sure Jamal & I will probably be roommates next year."
When it comes to recruiting, the campus visit is always vital, seeing the facilities, meeting the team and spending time with the staff.. With Elliott it was a major factor.
"When I came to visit there was a home game, so we were able to go to the Marquette Creighton game. The atmosphere was amazing. To be able to play there, in an NBA facility is huge. And now that they are building a new facility that is bigger and better than the Bradley Center? I'll really be able to see something new.
I also got to spend a lot of time with the team, which was great. We went out to lunch, had dinner at Coach Wojo's and I really felt like I got to know the guys. Since then I have kept in touch with Markus Howard pretty much. We talk often, but he never pushed me on a decision. When we do talk its never really about basketball, just about life, what's going on, not basketball."
With so many options for college Elliott also added that the Big East was a big part of his decision.
"The Big East produces a lot of pros. It is one of the best conferences in the country. You have to work hard to play in the Big East because there is never a night off. The league is one of the toughest there is."
Elliott is certainly driven. He is a confidant young man, knows his strengths and works to continue the areas where he needs to improve.
"I think I am ready for Marquette and the Big East because I will play harder than everyone. I never feel entitled and I play with a chip on my shoulder. I think I do almost everything well. I can shoot, score, rebound, pass and I am very good in transition. I know I need to work on my body to get stronger, and I need to work on my ball handling, but I'm ready and I am going to keep working. If I am not playing basketball I am either watching TV or sleeping. I take Mondays off, every other day I am working on my game, in the gym or on the weights. Every day."
Family is important to Greg and he knows he had their support through the entire process.
"My family is all behind me. They just waited for me to make my own decision. They have always been 100% behind me and they're all very happy that I chose Marquette."
Family plays such a big role in Elliott's life that it even comes into play when picking the number he will wear at Marquette.
"My little sister Gabby is in 9th grade. She has always been #5, but she couldn't have that number this year so she went with #3 because that was my number, so she wore it for me. At Marquette I can't get #3 because its retired for Dywane Wade, so I am going to go with #5 because it's Gabby's number and I'll wear it for her."
Off the court the future Golden Eagle says he's pretty quiet when he is around people outside of his circle, but he's not shy about what's coming for MU fans.
"Get ready for the ride, we've got big things coming for Marquette basketball!"
Writer's note: Thanks to MU alum Greg English and Branden Hunter of Michigan Preps for the assists.