Special to BrewCityBall/InsideTheAL
By: ANDREW GRUMAN

MILWAUKEE --
While the vast majority of college basketball teams are still months away from opening practice, the Marquette Golden Eagles are taking advantage of the 10 sessions that come with taking a foreign trip.
The extra practice time is extremely valuable to second-year coach Steve Wojciechowski as he begins to mold a roster that features five scholarship freshman, two sophomores and three eligible juniors.
"Our guys need to put some hair on their chest and grow up and get ready for the rigors of a college basketball season," Wojciechowski said following Tuesday's practice at the Al McGuire Center. "This gives us a chance to get a head start."
Three of Marquette's incoming freshman came to campus with clear positions – power forward Henry Ellenson, center Matt Heldt and point guard Traci Carter.
Haanif Cheatham has spent the early practice sessions at point guard, while Sacar Anim has worked at power forward despite standing just 6-foot-5. Instead of having to make the switch come October, Cheatham and Anim are getting a head start.
"I'm glad we get this extra time," Cheatham said. "Usually you are practicing in September and the season is right around the corner. It would have been a harder thing to adjust to. Now that we are practicing in July and August, it will be easier for us to adjust and get better playing together.
"Switching positions to being a point guard in college has really been a tough adjustment, but I'm adapting to it well. I'm loving the process that it brings."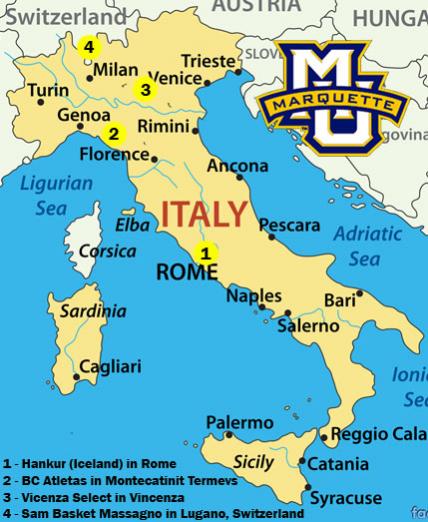 Marquette will play its first game on the tour Aug. 12 in Rome against Hankur Basketball, a professional team from Iceland.
The Golden Eagles will then face BC Atletas out of Lithuania in Montecatinit Terme, Italy on Aug. 15, Vicenza Select in Vincenza, Italy on Aug. 16 and Sam Basket Massagno in Lugano, Switzerland on Aug. 19.
"It's hit and miss," Wojciechowski said of the competition. "You don't have a great deal of knowledge before you walk into the game situation, so the main focus has to be us."
The games will be played under FIBA rules, which means a different ball, a deeper 3-point line and a 24-second shot clock.
"It's a bit of an adjustment playing with the new ball," redshirt sophomore guard Duane Wilson said. "The ball doesn't have as much grip as the Nike ball that we use in college.
"The 24-second shot clock is like the NBA — you have to push the ball up more, you really can't walk up. There's just a faster pace to the game."
Showing youth:
While there were moments in which Marquette flashed its talent during the portion of Tuesday's practice open to the media, the Golden Eagles also made mistakes Wojciechowski chalked up to inexperience.
Marquette practiced twice Tuesday and concluded its second session with a five-on-five scrimmage.
The white team was made up of Cheatham, Wilson, Sandy Cohen III, Henry Ellenson and Luke Fischer. The blue team was comprised of Traci Carter, Wally Ellenson, Andrew Rowsey, Sacar Anim and Matt Heldt.
Junior guard Jajuan Johnson left practice with a right quad contusion and didn't participate in the scrimmage.
"I thought this afternoon's practice was the first time we showed our youth," Wojciechowski said. "We have to be able to deliver in tough situations and having two practices in a day is tough. But you've got to do tough things to win."
Fully healthy:
Junior center Luke Fischer is recovered from left shoulder surgery and will be able to participate fully on the trip.
Fischer is practicing without the brace he played with last season on his left shoulder. It appears as if the lack of pain is allowing him to play more freely and aggressively.
"It feels great," Fischer said of his shoulder. "I'm 100 percent. No more worries about that.
"I was always ahead of schedule, which was fantastic. Rehab went by real quick. Never had any worries about it, any issues with it. We're looking great right now."
Henry Ellenson is fully recuperated from a fractured left hand suffered during the WIAA state tournament in March.
Crash course:
The Golden Eagles will receive a lesson in Italian cuisine and culture from Travis Diener's wife, Rosamaria, before they depart for Italy on Monday.
Rosamaria Diener, a first generation Italian, has prepared a presentation that includes a background of the history of Italy and information on the numerous different sites throughout the country.
Marquette will visit the Vatican City and make stops throughout Italy in Rome, Florence, Pisa, Treviso, Venice, Vicenza, Lake Como.
Comment in our message boards:
CLICK HERE