Milwaukee -
When Steve Wojciechowski took over the Marquette basketball program he made it known that he wanted to recruit the state of Wisconsin. He immediately gained a re-commitment from Sandy Cohen and he made recruiting players like Rice Lake's Henry Ellenson, Neenah's Matt Heldt and Stevens Points' Sam Hauser his top priority. Wojo hit it big with Ellenson and Heldt when they committed to being a part of Marquette's highly regarded 2015 recruiting class. With Hauser only being a junior, Wojo knew it would take some time and serious effort to land the 6'6 wing. Over the weekend his hard work paid off with a commitment from the top rated 2016 recruit in Wisconsin. Wojo wasn't going to finish second in this race, not after Iowa State got involved and not after Virginia hosted Hauser last week. Wojo wanted Sam Hauser at Marquette, and his hard work paid off.
"That is one of the things that really impressed me about Coach Wojo," said Hauser, "He is passionate about his job. He has a confidence to him, and when it comes to recruiting he is getting the people that he really wants."
Hauser was Wojo's second commit of the weekend, following UNC Ashville transfer Andrew Rowsey.
As much time and effort as the Marquette staff put in recruiting Hauser, the 6'6 junior was able to spend time getting to know the MU staff. "With him making me such a high priority, that was a big thing for me. Getting in so early, it helped us become good friends. I feel like he is a real friend, not just a coach. It also helped me to get to know the entire staff too. Coach Nelson was very involved with my recruitment, but in the times I visited Marquette, the entire staff, the players, they all seem like real genuine guys, and they are good people to be around."
Hauser could have gone to college in any part of the country, but staying close to home was something that did play into his decision. "At first I never even thought about where I would be playing, playing away from home didn't seem like an issue. But the more I thought about it, the more I thought about how cool it would be to have my friends and family watching every game and cheering for me, so in the end I think that did have a pretty big impact."
With the commitment of Hauser, Marquette will be loaded with players from the State of Wisconsin when he arrives on campus in 2016. Marquette will have Luke Fischer, Duane Wilson, Wally Ellenson, Sandy Cohen, Henry Ellenson, Matt Heldt, Sam Hauser and preferred walk-on Cameron Marotta on the roster. That is eight players from the state of Wisconsin. The Stevens Point native is happy about that too. "We have a lot of talent. I have gotten to know Matt & Henry over the years and they are really good guys too."
Hauser had known for a while that Marquette might be the place for him, but he is relieved that the recruitment is over. "It wasn't really hard, but it was stressful. When it hits, you know it is the right place for you."
Hauser knew going into his visit at Virginia that Marquette was his leader, and his visit with Tony Bennett did have Sam feeling like he needed to be sure, so this past weekend he came to Milwaukee for his visit and after leaving, he was sure that Marquette was where he needed to be. "On the way home I was talking with my parents in the car. The more we talked the more I was sure that Marquette was where I wanted to be. When we got home I called Coach Wojo and told him I was committing. I wasn't nervous, I was really excited to call him and he was excited to hear what I had to say. I really feel that Coach Wojo believes in me, and I believe in him."
There were so many things that came into play during the recruitment, things that led to Hauser's decision. "I was focusing more on the schools than the conferences that they were in, but the Big East did have a little bit to do with my decision. The Big East is a power conference, and Marquette will be one of the top teams in the Big East in the very near future."
Hauser also like the fact that Marquette plays in an NBA arena, and soon to have a new facility. "I was at Marquette for the Marquette – Wisconsin game. It was a great atmosphere, the fans at Marquette are really passionate about basketball, and I can't wait to be a part of it. Once they finish the new facility, it will be phenomenal."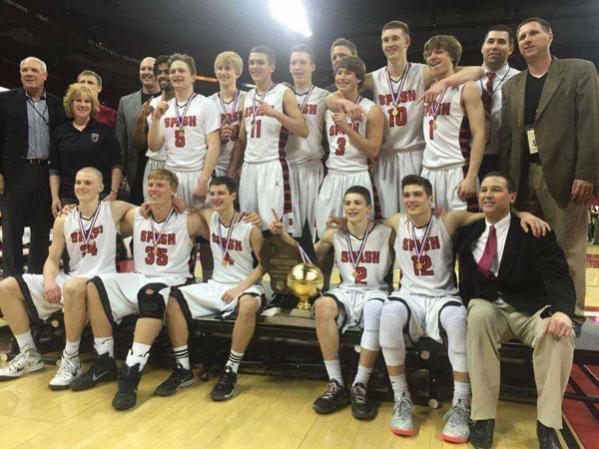 Sam Hauser File


Sam Hauser 6'6 SF Stevens Point Wisconsin

18 points, 7.6 rebounds, 3.4 assists, 2.1 steals and 2.8 blocks per game

Shot 56% from the field, 86% from free throw line and 52% from 3pt

Averaged less than 1 turnover per game (.8) in 28 games

Wisconsin Division 1 State Champion

Unanimous pick, Division 1 First Team All-State
Strengths:
"I really feel that my shooting is the strongest part of my game, that and my basketball IQ. I have always been focused on making the right play, on protecting the ball. Last year I averaged less than one turnover per game, and that is something I worked hard at."
Weaknesses:
"I need to work on becoming more athletic. I also need to work on getting stronger, but that will come with time."
Hauser's high school teammates have been playing together for some time, and are very close. His younger brother Joe is one of them. So how does the newest Golden Eagle feel they would describe him? "I think they would say that I am a very humble kid. They would say I am hungry, but also that I am a nice overall kid who is very respectful."
With the commitment out of the way Hauser can focus on basketball, but he will always have an eye on the MU campus. "It will always depend on my own basketball and school schedule, but I want to get down to campus as often as I can. I really look forward to interacting with the coaches and the team, my future team."
Sounds like another in-state recruiting home run for Steve Wojciechowski and the Marquette Golden Eagles.