It's been quite a week for Steve Steve Wojciechowski and the Marquette men's basketball team. On Saturday they picked up a 115-47 win over Wisconsin Lutheran. With most of the scoring gone from last year's squad, 115 points may seem like a pretty big positive, but the only real take away from that contest was the fact that there is a huge difference between Division I and Division III.
The highlight of the week came on Wednesday, which was National Signing Day. Wojciechowski, without ever coaching a game for the Golden Eagles, landed the #4 recruiting class in the nation. The highlight of the class was Rice Lake's Henry Ellenson, a proud member of Team USA who is regarded as the 4th best high school basketball player in the nation. It has been quite some time since Marquette had landed an All-American, especially a big. Marquette's 2015 recruiting class consists of…..
Henry Ellenson - 6'10 PF, rice Lake High School, Rice Lake, WI

Nick Noskowiak – 6'2 PG, Sun Prairie High School, Sun Prairie, WI

Haanif Cheatham – 6'5 SG, Pembroke Pines Charter School, Fort Lauderdale, FL

Matt Heldt – 6'10 C, Neenah High School, Neenah, WI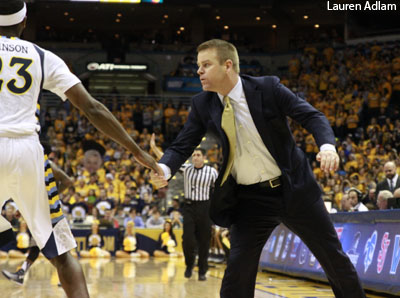 Coach Wojo spoke about the signees at Wednesday's press conference, click
HERE
for video. We had coverage on BrewCityBall Radio's InsideTheAL on Wednesday where we were joined by Wisconsin Basketball Yearbook's Mark Miller, Matt Heldt, Haanif Cheatham and Nick Noskowiak. Click
HERE
to listen.
On Friday it was time for the Steve Wojciechowski era to begin at Marquette and the Golden Eagles came through for their new coach in a big way, downing Tennessee-Martin 79-63. It gave us our first look at Wojo's coaching style, and he did not disappoint. He was animated throughout the game, including highs and lows where his verbal communication and body language was worth watching exclusively, but all in all, Wojo proved that he can coach.
Considering his new team had lost 73% of their scoring, 63% of their rebounding and 61% of the overall minutes played, there were a lot of questions answered on Friday…
• Who would be the starting five be?
• With Wojo's off season shooting drills, will Marquette improve on the 3pt shooting?
• Will this team play develop any team chemistry?
• Will Jujuan Johnson and Duane Wilson contribute?
• Can this team win without Luke Fischer?
• Will this team be able to compete in the Big East this year?
With Derrick Wilson hampered by a lower leg injury, transfer Matt Carlino got the start at PG. From there it was freshman Sandy Cohen, soph Jujuan Johnson, junior Steve Taylor and senior Juan Anderson. Johnson and Cohen may have been surprises, but Johnson is turning the corner and Cohen has been earning the time with his effort.
While they did struggle from the free throw line in the first half, the team shot over 54% from 3pt in the second half, over 43% for the game. That was a huge breath of fresh air for the MU faithful, something that will be needed for this team to succeed.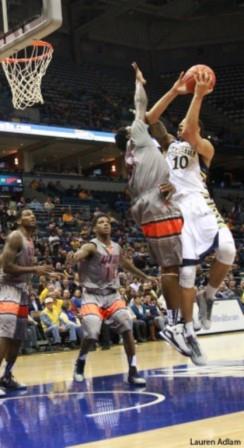 Team Chemistry – I have been vocal about the lack of the team chemistry over the last two years, and to date I am very pleased with what I am seeing this year. There is no question that Juan Anderson has emerged as the clear cut team leader. Juan has taken the lead on the court, but what is most impressive is that the rest of the team responds in a big way. He yells at players for blown assignments, gave Carlino an earful for his technical foul, instructs players on where they need to be and whenever there is a quick stop in the action, he reels in freshman Sandy Cohen for some quick tips and instruction. Not once was there a comment back, not once was there a bitter look, it was all positive.
The Oakland native had 16 points on the night and explained his role after the game, "I don't have as much game experience as I would like, but I know I need to be a leader. I try to tell the young guys what to expect, what they need to do, things that have helped me. We all need to be on the same page, and I think we're getting there."
The biggest surprise of the night was sophomore Jujuan Johnson. The Memphis native put up 20 points in his first career start, but to me it was much more than the scoring, it was the defense. In Johnson's freshman campaign he was rarely aggressive on defense, and didn't exactly attack the basket on offense either. Friday was different. Much different. Johnson was very aggressive on defense and attacked the rim on offense. Johnson along with Duane Wilson were a big part of Wojo's full court pressure defense that caused problems for the Skyhawks, picking up 12 steals and forced 19 turnovers.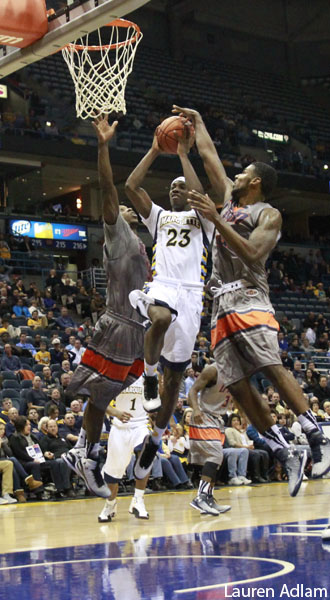 Johnson and Wilson looking like completely new players. The level of confidence they displayed gave MU fans a lot of hope for the season. They will be key for Marquette in the Big East. Juan Anderson liked what he saw from the two, and explained the renewed confidence. "It's a lot different when you know you are going to play, when you know what your role is. Instead of sitting there not knowing, and then just getting thrown in at some completely random time, you know what you need to do and you are ready. And I know from my own experience." (Anderson followed that last line with a laugh).
Anderson is playing like the senior leader that MU needs to be successful, and Steve Taylor Jr is showing renewed energy, but for this to have any success this year, Luke Fischer needs to play. It's not at all fair to put that kind of pressure on Fischer as he is new to MU, the Big East and Wojo, but it seemed that every time either Taylor or Anderson took a breather, the rebounding was nonexistent. Overall Marquette lost the rebounding battle 34-26. Yes, the Golden Eagles are undersized, but that should never happen against an opponent like UT Martin. To make matters worse, UT Martin picked up 12 offensive rebounds resulting in 17 second chance points. That is something Wojciechowski addressed in the post game press conference. "That is something that is not acceptable and something that will be addressed."
Marquette needs to rebound to be successful, Marquette needs Luke Fischer.
Prior to the UT-Martin game I thought that a successful Big East season was a pipe dream, but with the leadership of Juan Anderson, the new found confidence of Jujuan Johnson and Duane Wilson, Steve Wojciechowski's full court pressure defense Marquette can have a successful season. Prior to UT-Martin I would have picked MU to finish 7th-8th in the Big East, if Luke Fischer can stay healthy Marquette could see a top four finish in the Big East, something that could be good enough to get them into the Big Dance.