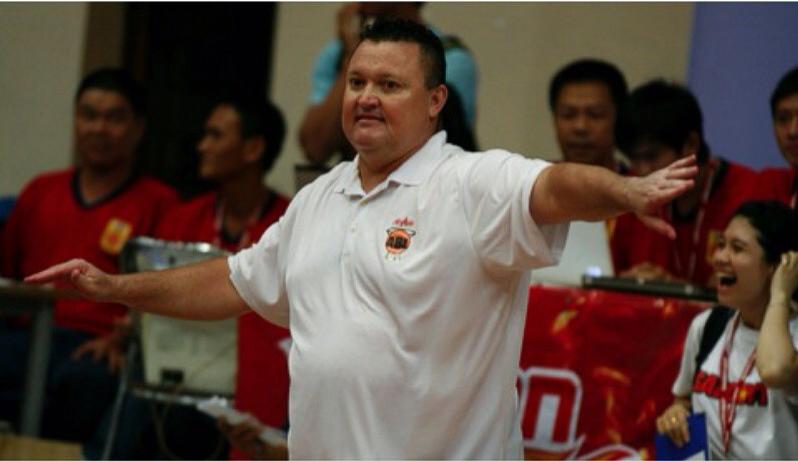 What started out like a normal Monday took a quick down turn this week when I learned of the passing of former Marquette assistant coach Jason Rabedeaux. My heart immediately sank. I have gotten to know many coaches over the years and Coach Rab was truly one of a kind. He was the epitome of "Larger than Life". So many memories and thoughts started running through my head. From the first time I started asking him about players, strategies and recruiting when he first arrived at Marquette, to a month ago when I was trying to find a job for a friend playing professionally overseas, Rab was always there trying to help.
I felt the need to write a story about Rab. After all he had done for me, I felt I had to, but I have been in a bit of a funk. I haven't been able to write in a while. Writer's block? A lack of confidence? Did I just forget how? I don't know the answer, but I knew I needed to do something, I owed it to Rab, but having writers block, how do you jump back in with this type of story? How do you say good bye? Easy, find someone who is good at writing goodbyes and ask for their advice. Who do I know that is good at writing goodbyes? Easy - Coach Rab. He wrote a great letter to Marquette fans when Head Coach Tom Crean left for Indiana and he later wrote an incredible
good bye story to legendary UTEP Coach Don Haskins when he passed away
a few years back. Rab would know what to say, the Eau Claire native could write and was never short on words.
As I started going through old e-mails from him, I realized how many stories he wrote for my SportsBubbler website when he first went to coach overseas. From "Morning Commute" to "Lost in Translation" to "Goin up?", or my favorite, "Haircut"….Rab's China Diaries were absolute comedic gold. Rab felt he could give me some content, and in return, I could help him keep in touch with his friends back home. As I read through those old stories again I had tears rolling down my face. Not tears of sadness from the loss of my friend, but tears of laughter as I imagined seeing him being pounded into submission by a woman cutting his hair or packed into an elevator that was 10 times over capacity. There's no question, Rab had a way to tell a story. But there was so much more to Rab, Rab loved to help people.
I first realized how deep of a person Rab was while I was in Richmond, Indiana. At the time, Marquette was recruiting star PG Dominic James and coincidentally, I was doing business with a hospital in Richmond. I saw some practices and a few games, but there was one moment I will never forget, and I remember it like it was yesterday. Richmond had big come from behind win in front of a huge crowd and James was the hero. After the game I talked to Richmond Coach Chad Bolser and I commented that Dominic came up big. Bolser replied, "Yes he did, but the credit goes to your Coach Rab." Confused, I so eloquently replied, "HUH?!?" Coach pointed to another player who had hit two huge shots in the closing minutes. I don't recall his name, but he was a slender kid with glasses. Bolser continued, "His eligibility was always a question mark, sometimes he wouldn't even show up for practice. A few weeks ago Coach Rab was here to see a practice. He asked about him, and when I explained the background, he asked if he could talk to him. So Rab took the kid up into the bleachers and sat down and there they talked for about a half an hour. Ever since that day he has been to every practice and he has been working hard in school. I don't know what Rab said, but he really turned him around. Had that not happened, I don't know that he would have been with the team today."
I was in shock. I had no idea. Forget basketball, here was a kid that was on the borderline of dropping out of school and in 30 minutes, Rab made a significant difference in his life. While that player did not go on to spend more time with Coach Rab, Dominic James did. Now playing professionally in Qatar, James, now known as Dominic Wright, had this to say about his former coach. "Rab was not your ordinary coach. He brought a very unique kind of enthusiasm to the game. Humorous of course, but he knew exactly how to make the game fun while getting better, at the same time being ultra-competitive. Many times he was the hardest working person in the gym and I mean the sweatiest, including the players. He always left the gym with a smile on his face, that was just Coach Rab for ya, and that's what I'll remember most."
Coach Rab kept in contact with his friends and fellow coaches over the years, never forgot his roots, and always kept ties to his home state of Wisconsin. One day while coaching in Viet Nam he met a musician from Wisconsin and they struck up a conversation. Turns out this musician's brother played basketball for Edgewood College in Madison. After a few emails and several discussions, Ben Wisniewski arrived in Viet Nam to lace 'em up for Coach Rab and the Saigon Heat. But it didn't end there. Knowing that the fellow Wisconsin native didn't have a long playing career ahead of him, Rab saw that he had it in him to be a coach. Wisniewski ended up in the state of Washington coaching Rabedeaux's two sons Beau and Cole at Kingston High School.
"I loved being around Coach Rab. A true players coach. He coached with unbelievable energy and passion. The ultimate motivator. I've never been a part of a pregame locker room with such anticipation and electricity. He commanded the respect of his players and it showed with how they competed on the floor. Coach Rab has been a huge influence and mentor in my young coaching career and will never be forgotten," said Wisniewski.
While coaching at colleges like Oklahoma, UTEP and Marquette, Jason Rabedeaux taught kids about basketball and about life, and those players will never forget. Seeing Facebook and Twitter comments about coach this week really spoke volumes. From fellow coaches and players to walk-ons and managers, Rab was loved by everyone, but none more than his family.
In going through all of his old e-mails I did find one that hit me. It was something simple, a quote. When Tom Crean left Marquette for Indiana and Buzz Williams was hired at Marquette, Rab again found himself looking for a job, so he reached out to his friends and offered up this simple quote.
The Good Doctor said it best...Suess that is...

"I'm sorry to say so but, sadly,
it's true that Bang-ups and Hang-
ups can happen to you."

You can get all hung up in a prickle-ly
perch. And your gang will fly on.
You'll be left in a Lurch.

I may be in a bit of a "Lurch"...:-)
While Rab's gang will once again fly on, this time it will be the gang that is left in a lurch without Jason Rabedeaux.
Rab's ability to coach took him all over the world. It didn't matter where he was or if they could even understand him, he could get people to play basketball. He could get people to laugh and he saw to it that everyone had fun.
With Rab's passing I have heard from various players, coaches and managers this week, and an e-mail from one of Rab's closest friends really got me. It started out with, "Rab loved you." It hit me hard, but I'll take it, because I loved Rab too.
Thanks for everything Rab, may your China Diaries live on forever in the hearts of all of those you touched.