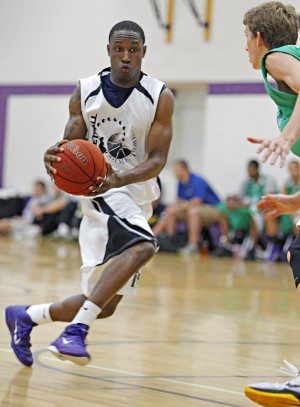 Milwaukee -
Milwaukee Panthers head coach Rob Jeter received a commitment from Iowa Western CC guard JeVon Lyle on Wednesday afternoon.
Lyle, originally from Kansas City, spent a redshirt freshman year at UNI in Cedar Falls before transferring out due to a logjam at point guard and perhaps the strong manure odor outside the McLeod Center.
"JeVon is really fast, athletic, just a great athlete," Iowa Western CC coach Jim Morris said. "He can really get up and down the floor and he has a great vertical game."
A 6'2'' guard, Lyle will have three years of eligibility and is likely to vie for time at the shooting guard spot with Jordan Aaron and Evan Richard, although he will likely be tasked with defending the opposing team's best scoring guard, depending on who is on the floor for the Panthers.
PantherU just moved
JeVon Lyle's recruiting page
from the Premium section to the Recruiting section so everyone may view it.
He is described by coaches who recruited him in high school as lightning fast, an excellent defender and a slasher on the offensive end. Lyle's pickup continues the trend in Milwaukee's recruiting for the 2013 class to emphasize size and defense, as Lyle is roughly the same size as Kaylon Williams and defensively akin to a faster Ryan Allen.
Lyle's commitment is the sixth for the 2013 class. He joins Steve McWhorter, Cody Wichmann, Brett Prahl, Alex Prahl, and Matt Tiby in a Panther uniform for the first time.
Milwaukee remains hot on the heels of top target Deshawn Delaney, who is scheduled to be on campus this weekend after spending last weekend at Bradley.
To talk about JeVon Lyle's commitment to Milwaukee, head to the thread on the PantherU Forum and join in the discussion!