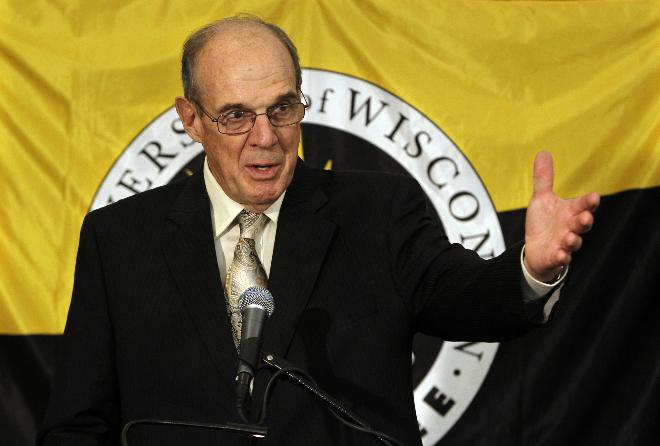 In a stunning move that will bring about a new day for men's basketball, University of Wisconsin-Milwaukee Athletic Director Andy Geiger announced Monday that effective immediately, men's basketball home games will be played in the on-campus Engelmann Gym.
"Basketball really should be played on campus," Geiger said in a press conference with the media. "Beyond that, we want to create the most intimate environment possible, where fans will be able to get as close to the action as anywhere else."
The move is the second in as many seasons for the Panthers, who played last season at the Klotsche Center following a nine-year stint at the U.S. Cellular Arena in downtown Milwaukee.
Geiger declined to say that the move was made to save costs for the university, although he did mention that "Those video boards we bought last year proved to need a lot of electricity to function," and that "we will definitely save money in the coffers by using one of those flip card things to keep score."
When asked what the move will mean for recruiting, Rob Jeter said, "It won't make too much of a difference to us; the Klotsche Center and Engelmann Gym each bring their challenges to recruiting high school kids," 90% of which are coming from playing in gymnasiums in better condition than either on-campus court. "Looks like I'll just have to start recruiting the pickup games in the Klotsche Pavilion. Wait, can we play our games in there?"
Geiger said that the move to Engelmann Gym would further enhance the university's standing in the Horizon League, a conference that could be losing UIC, Loyola, Valparaiso and Detroit to better leagues. "The atmosphere of an on-campus gym, just a stone's throw from the student dorms, will be quite loud. The fans will be engaged," Geiger said.
"Engelmann Gym will definitely be a wonderful setting for some great conference rivalries when Commissioner LeCrone finally adds Cardinal Stritch, UW-Waukesha and Wauwatosa East High School to the Horizon League."
Commissioner Jon LeCrone was in attendance at the press conference, and offered some words to the gathered press. "We definitely see Milwaukee being an anchor in the Horizon League for a long, long time as we aim to maintain our status as a top-30 basketball conference."
Geiger hinted that the university will likely have another announcement coming in the next week or so. Rumors abound that the women's basketball and volleyball teams will be headed to the basement half-court in that church across the street from the UWM Union.