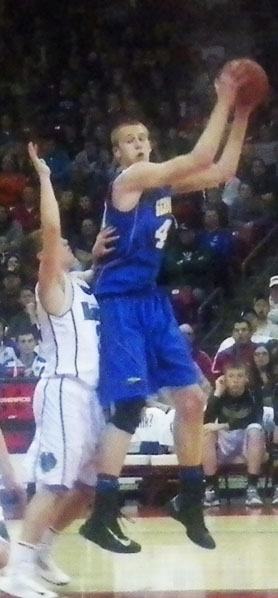 MADISON -
Germantown did their part to contend for their second straight gold ball in 2013, but they won't have a dance partner in Milwaukee King. Their new partner isn't the prettiest team you will see on the floor, but Mukwonago won't go down without a fight for the Division 1 championship, Mar. 9, at the Kohl Center.
The Indians beat King in their semifinal game, 64-47 while the Warhawks let up on the gas pedal a little bit to coast to an 80-60 win against Oshkosh North in the first Division 1 semifinal game. It will be speed and finesse against brute strength and heart.
If Mukwonago (23-4) plans to stop Germantown's (27-0) 55-game win streak, they have to extend their defense from beyond the free-throw line and guard junior guard Jake Showalter. He tied the Division 1 record for 3-point shots made with seven, sharing that record with Trevor Stratton of Wisconsin Rapids, who did it in the 2005 state tournament game.
"We just didn't think that Showalter would get that hot," North coach Frank Schade said. "He really shot the ball well." Added Showalter: "I knew last year I was close (to the Division 1 record). People told me that I was close (this game), but I wasn't sure if I got it or if I tied it, so I didn't really know. It didn't really click in my mind about the record. I just wanted to hit some threes."
It was a welcome relief for Showalter, who struggled with his shot in recent weeks in the playoffs. Last year, he made nine threes in the two tournament games. His 21 points from 7-of-16 shooting from beyond the arc gave the Warhawks the boost they needed to separate themselves from the Spartans in the second half.
Another concern for the Indians is how to stop 7-footer Luke Fischer, who will receive the Mr. Basketball award. He scored 32 points, 19 of those points came at the halftime mark. Fischer will get a little tutorial of what to expect in the physical Big Ten when he battles Nate Tanguay, an outstanding lineman in football.
What about the underdog? If you don't believe that an underdog can knock the defending champs off the throne, then you don't think Mukwonago has a chance. "I guess being the underdog, we don't look at ourselves as an underdog," Tanguay said. "We always think that we're the better team and the only team that can beat us is us."
David knocked off two highly-regarded Goliaths in Madison Memorial and King. Could Germantown be the third victim? "No matter who won the game (Between Mukwonago and King)," Germantown coach Steve Showalter said, "we have to prepare all night (Friday) and all day (Saturday) during the day and be ready to play in this championship game."