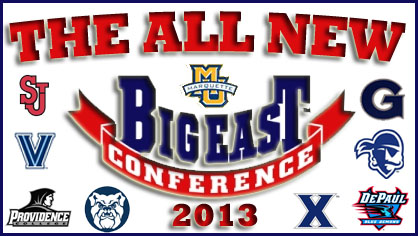 The internet is blowing up with reports that the seven 'basketball schools' that are breaking away from the Big East are closing in on their big announcement. According to ESPN, the schools are on the verge of announcing a TV deal with Fox Sports for between $3-$4 million per team, more than what the Big East football schools are getting from ESPN.
Reports are also saying that the league will start with nine teams. From what I am hearing, the league will announce the addition of two more programs bringing the total to nine, but are not ready to stop there. It is expected that the two additional schools will be Butler and Xavier, and the league will begin play next year, in 2013.
The goal for the Big East is to start with 12 teams. That would be ideal, but they are willing to start with 10 if they can not work it out. I do not believe they have any intentions of beginning with nine teams.
There is no question that both leagues, the current Big East and the "New Big East" want to move forward, so that is the reason for the rapid progress, and the reported agreement to sell the Big East name to the seven basketball schools.
So who will be number 10, 11 & 12? That all remains to be worked out. There are several schools under consideration, and several more that want in. My best guess is that Creighton, VCU, Richmond, Saint Louis and Dayton are the leading contenders, but the Big East will announce the moving forward with nine, and continue discussions on the remaining openings. ESPN has also reported that Notre Dame is a possibility for a year. There may be some truth to this, Notre Dame wants to get into the ACC next year, and if they can not work that out, they may play in the "New Big East" for one year before heading to the ACC.
Of course none of this can or will be confirmed until the "BB-7" make an official announcement, but it seems they are closer than ever.
The brightest spot here for fans of Marquette and the "BB-7", is that the future is no longer up in the air, and you can start building for the future.