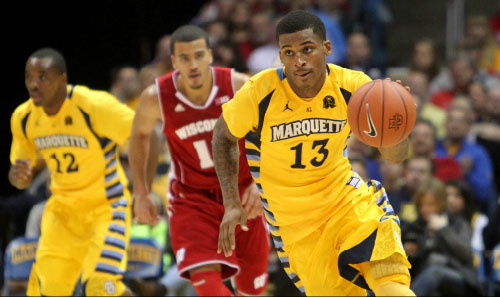 Marquette rose to #17 in the AP poll this week after taking out Pittsburgh at the BMO Harris Bradley Center 79-69. As they prepare for the tonight's matchup with Seton hall in Newark, NJ, the Golden Eagles sit in a three-way tie atop the Big East with 9-3 conference record (18-6 overall). Being on top of the Big East was not something many, if any people expected this late in the season. Marquette's success is due to Buzz Williams' system – hard work, balanced attack, relentless effort, pressure defense and more hard work. The success is a surprise because the Golden Eagles lost two players to last year's NBA draft and have no real stars on this year's roster, though one is emerging, and that is junior Vander Blue.
Blue has been criticized since high school for his lack of consistency. He's up, he's down, he's up, he's down. But this year Blue is emerging as the real star of this team, showing everyone that he now has the ability and talent that people used to call his 'potential'. Blue is averaging 14.8 points and per game while shooting over 46% from the field. He is also pulling down 3.3 rebounds per game. When you look at Big East play, the numbers are even more impressive. In conference play he is averaging 16 points on over 48% shooting and pulling down 4 rebounds per game.
The turnaround in Blue's game is two-fold. Blue is almost a year younger than most in his class. He is almost 11 months younger than Davante Gardner and 1½ years younger than sophomore Todd Mayo. His young age has played a part in his development, but he is now more mature, and it can be seen on the court.
Against Pittsburgh Blue shot 7-8 from the field, 2-2 from 3pt, pulled down 6 rebounds and finished with 19 points. After the game Marquette head Coach Buzz Williams explained that he believes Blue has turned that corner. "Part of Van's maturity and growth has been he understands what a good shot is, what a bad shot is. I think he understands shots he can make are shots he practices. I think he understands time, score and momentum. I think when you look at those numbers, I think that is about as good as Van can play in all of the facets of the game."
Blue credits his work ethic for the improvement. "I know the work I put in individually this summer, just thinking about being at the top, that's all I would think about, knowing that for us to get to where we wanted to get I would really have to improve, because a lot of people doubted me and this team and we are starting to prove people wrong."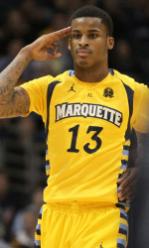 As impressive as Blue stats were against Pittsburgh, it was surprising that he only attempted one shot in the entire second half. His explanation is proof that he has grown both on and off the court. "I was feeling it in the first half, but I didn't force anything. I was taking better shots. In the second half we had a lead and the team didn't need me to score. Last year if I was on a roll like that, I would have kept going, I would have kept driving, trying to score. But now I understand the game more, and I felt it was more important to get Davante involved in the offense, and to get Jamil going. We need them to be in that flow down the stretch. That's what I needed to do, I didn't need to take more shots."
There were several NBA scouts at the Marquette-Pittsburg game, likely there to watch Steven Adams, but what they saw was the rapidly maturing Vander Blue.
Prior to the season the Madison native explained why he changed from #2 to #13 this season. "People said I couldn't do things, and people say the #13 is unlucky. I want to show people that good things can come from where you least expect it, I want to prove people wrong.
Vander Blue will take his talents, not potential, to the floor tonight in New Jersey. Every year they talk about what a team has lost. "Well they lost DJO & Jae Crowder to the NBA"…. "Well they lost Jimmy Butler to the NBA"…. If he continues to progress, he will be taking another step towards becoming one of those players after his days at Marquette are done…. "Well they lost Vander Blue….".