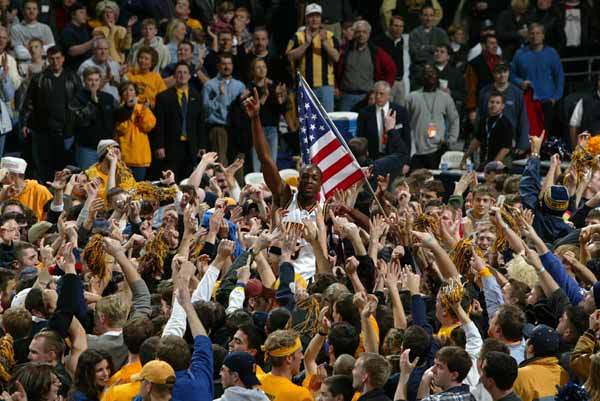 I've been going to Marquette games at the Bradley Center my whole life. Regardless of whether it's as a fan or a member of the media, the men's basketball team has always been a big part of my life.
I remember Chris Crawford, Anthony Pieper, Niv Berkowitz, and more. I've seen the good, the bad, and the ugly.
When I started going to games, it was ugly. The Golden Eagles were always competitive, and pulled off a few victories I still remember to this day, but always finished with a record around .500. Mike Deane never really got them going in the right direction.
As the 2000-'01 season was coming to a close I started to hear about a certain player that was running riot over Marquette practices. He wasn't playing because he was academically ineligible, though.
At the time, Brian Wardle was the team's go-to-guy, but I was told he was even better than Wardle. I had a hard time believing that. Wardle was so good that I tried to emulate his game on the court whenever I played – that didn't work well – so to hear that was a bit surprising.
In the fall of 2001 as a new season was beginning, I saw the guy on the court for the first time. The internet wasn't as advanced as it was today, so he was still a bit of an enigma to me. I needed to know more about this guy who was Marquette's new sensation.
After two impressive performances in the "Pepsi Blue and Gold Classic" the Golden Eagles were off to Anchorage for the Great Alaska Shootout.
Marquette played Tennessee and Indiana there, two quality teams from BCS conferences. They won both games, and in the process I was introduced to the greatness of Dwyane Wade.
That season was an impressive one for Marquette. They got a six-seed in the NCAA Tournament after a 26-6 season, which was ended by Tulsa.
When the season started again in the fall of 2002, there were a few noticeable changes to the team. Odartey Blankson transferred to UNLV after his freshman year, which was disappointing because he had some very impressive potential. Travis Diener took over as the starting point guard after Cordell Henry graduated, and transfer Robert Jackson was inserted into the starting line-up after Oluoma Namaka was done at Marquette.
Sophomore Todd Townsend was made a starter after a freshman season where he played sparingly. The bench was made up primarily of freshman, with guards Karon Bradley and Joe Chapman along with forward Steve Novak. Big man Terry Sanders provided the bulk off the bench with 6 foot 11 Scott Merritt starting.
As an 11-year-old kid, I didn't really like all the change. I wanted to get to know players on the court and root for all of them for a long time. In the end, I was fine with it because Wade was back.
The season of Wade
He was so good that season. I have never seen any player do the things that Wade could. His shots were falling from all over the court. He was more aggressive and attack-minded than any player I've ever seen. Whenever Wade was playing, he was the best player on the court. It never was even close.
Throughout the season he provided so many amazing performances. Against Wisconsin at the Bradley Center he willed them to victory. At Tulane in January he dominated, scoring 35 points.
The highlight of the regular season, without any question, was his performance at rival Louisville. Just 12 days before that, Reece Gaines hit a three-pointer with six seconds left to beat Marquette at the Bradley Center and end their 28-game home winning streak.
Louisville was ahead 42-23 in the first half of the rematch and had an 11-point lead at halftime. Then, Wade took over. He scored 19 second half points, finishing with 28. Marquette won 78-73 in one of the most memorable games I have ever watched.
The perfect unit
While Wade was the star, there were so many perfect pieces that fit so well on that Marquette team.
The Golden Eagles had two legitimate big men in their starting line-up. Jackson was a force down low. He is still the best Marquette big man I've ever seen play. Merritt frustrated, but in the end was a shot-blocker and capable scorer, too. Townsend was the defensive stopper. He was long, strong, and tough.
Diener was showing plenty of toughness, too. He was fearless, attacking the basket with authority someone his size had no business doing. Novak was the sharp-shooter off the bench. He was lethal.
It was evident this team was special, to me at least, after a game in mid-February against Wake Forest. The Golden Eagles lost there the season before, and it was billed a match-up between two All-American candidates: Josh Howard and Wade.
The Demon Deacons were No. 15 coming into the game, and were Marquette's toughest test. Wade struggled. He was just 5 of 14 from the field, but that was fine. Jackson and Merritt combined for 37 points and 20 rebounds. They dominated down low.
I knew the team was good, but if the Golden Eagles had one of the country's best guards and two big men like Jackson and Merritt were they one of the best in the nation?
My favorite March ever
After the brackets were released, I remember listening to Steve "Homer" True on 1130 WISN. I heard him predict Marquette to win the national championship. Initially, I thought "Well he's just the voice of the team. Probably just being a homer." As I thought about it more and more, the prospect became more realistic.
When I saw Kentucky at the top of the Golden Eagles' bracket, I thought the Elite Eight was the best-case scenario. The Wildcats were good, led by Keith Bogans and Chuck Hayes. Even before that, Marquette had to get passed Missouri and Pittsburgh, both of whom were no slouches.
Before thinking about all that, Holy Cross gave Marquette some problems. Tom Crean was an assistant coach to Crusaders' head coach Ralph Willard while he was in charge Western Kentucky, and that was all I knew about the match-up. Little did I know the game was actually very close, and saw Wade play one of his worst games of his Marquette career. Luckily, Diener delivered in a huge way, sparking the team with 29 points, leading to a 72-68 win. The point guard single-handedly won Marquette that game. He willed them into the second round.
Against Missouri, I thought the Golden Eagles were done. They were up by 10 at halftime, but Ricky Paulding and company did not quit. I thought there was absolutely no way Marquette could pull it out after the Tigers came roaring back.
The game went to overtime, and I've never been so constantly active in my life. I watched that game in my basement, and saw Novak's coming out party. He had nine points in overtime, and Marquette didn't miss. They scored 21 points in the final five-minute period. It was amazing. After being down and out, the Golden Eagles caught fire at the best possible moment to continue their season.
Even though Marquette only beat Pittsburgh by three, the Golden Eagles controlled the second half and I never really felt like they were going to lose.
Tied at 34 at halftime, Marquette led pretty much the whole second half and was up by 10 points with just under four minutes left. A late Pittsburgh run gave them a chance at the end, but Brandon Knight missed a possible game-tying three and Marquette advanced.
Kentucky didn't know what hit them. While the game was kept close in the early stages, Marquette took it over.
They hit everything. Diener and Novak were hitting from beyond the arc. Jackson was imposing down low. But Wade introduced himself to America against Kentucky, if he hadn't been already.
I'll never forget that day. I watched the game with my parents, and watched TV all night so I wouldn't miss the celebrations in Milwaukee. Seeing Wisconsin Ave. flooded with students was a memorable sight. That day was special.
My future decided
My dad teaches at Marquette, so I've always had a pretty good idea I'd end up going to school here. There were moments I knew I wanted to be a part of that, and the excitement I had when they beat Kentucky was definitely one of them.
As a senior, I haven't really been a part of it in the way I envisioned it back then. Since the start of my sophomore year I have found myself on press row much more than in the student section. But, that season is a huge reason I am at every game.
There is something special about Marquette basketball. Whether it's the passion of my dad and the alumni I used to sit by in section 218 every game that gives me that feeling, the history of the program, or just the feeling of togetherness of the Bradley Center on the day of a game is irrelevant. To experience something like that which united so many people was amazing.
In March of 2003, I became hooked and knew I was going to Marquette. I'm sure I would have still ended up there without that team, but who knows. While I'm not the loud fan I was as a kid, Marquette basketball still means a lot to me. I blame Wade, Diener, Novak, Crean, and the rest of that team. They were just too much fun.