Marquette vs vs. Seton Hall
BMO Harris Bradley Center
8 p.m. CT -- Wednesday, Jan. 16
TV: BIG EAST Network Sports 32 / ESPN3
Radio: 540 ESPN


Keys to the game....
Seton Hall's guards like to shoot from the perimeter. They can and will shoot successfully from well beyond the arc, so MU needs to get out and defend at the top and deep on the upper wings.

Seton Hall has been having injury problems. The Monitors are without Patrik Auda, a 6'9 junior PF who averages 25.4 minutes and 7.6 points per game. Kevin Oliver, a 6'6 junior SF who is good for 23 minutes and 8.5 points per game and Brian Mobley, a 6'9 junior who averages 22 minutes, 9.6 points and over 6 rebounds per game, so MU's depth on the bench should be a huge plus.

Seton Hall likes to run, not just in transition, but the old fashioned fast break. In recent games MU has been criticized for allowing opponents to push the ball down court uncontested because they are celebrating after scores - they can't let that happen against Seton Hall as they will take advantage of it.

MU needs to limit turnovers. The Golden Eagles are averaging 13 turnovers per game, and that needs to stop. They need to keep the T/Os in single digits.

Marquette has been shooting the ball very well as of late (47.9% FG against Pitt) . They need to keep the percentage above 40%. That is a high number, but by working the paint they can keep it a high percentage.

Rebounds: MU has owned the boards in Big East play and that needs to continue. The Monitors start two post players that go 6'9, so MU's bigs need to clear the lane allowing Trent Lockett and Vander Blue to grab their share of rebounds.



Tale of the tape


| | | | | | | | | | | | | |
| --- | --- | --- | --- | --- | --- | --- | --- | --- | --- | --- | --- | --- |
| Team | PPG | FG% | FT% | 3P% | Rebs | Oreb | Dreb | Assits | T/O | Steals | Blocks | Fouls |
| Marquette | 70 | 46.7 | 73 | 29.9 | 35.7 | 11 | 24.7 | 15.1 | 13.3 | 7.5 | 3.5 | 17.3 |
| Seton Hall | 71.1 | 45.7 | 66.3 | 37.4 | 36.6 | 10.9 | 25.8 | 15.6 | 15.8 | 7.9 | 3.1 | 17.6 |
| MU Opponent | 61.9 | 40.6 | 64.7 | 31.8 | 30.7 | 10.9 | 19.9 | 13.3 | 13.4 | 6.6 | 3 | 18.7 |
| SH Opponent | 64.5 | 40.8 | 66.7 | 34.5 | 33.2 | 10.9 | 22.3 | 11.7 | 14.2 | 9 | 2.6 | 17.3 |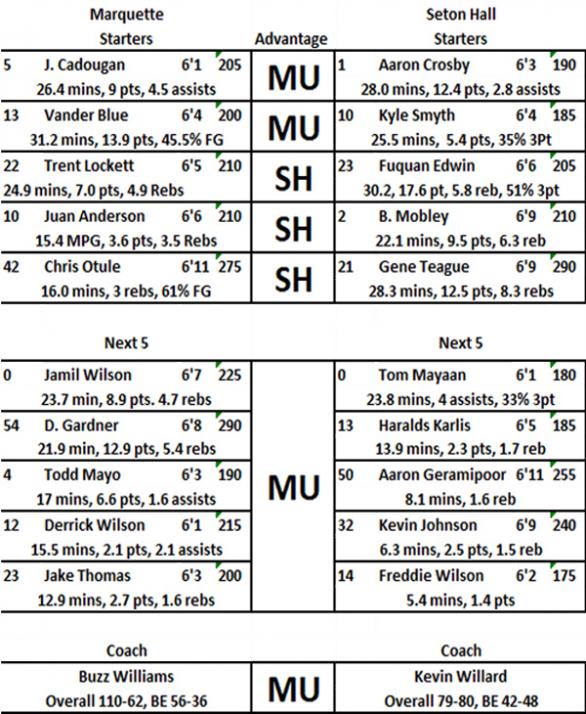 | | | |
| --- | --- | --- |
| Rank | Marquette | Seton Hall |
| RPI | #21 | #87 |
| SoS | #35 | #128 |
| Overall | 12-3 | 12-5 |
| Conference | 3-0 | 1-3 |
| Home | 9-0 | 8-2 |
| Away | 1-2 | 2-2 |
| Top 25 | 1-2 | 0-2 |
| RPI Top 50 | 1-2 | 0-2 |