by Troy Sparks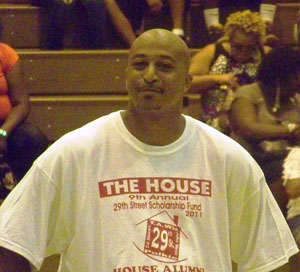 Another coaching candidate was passed over by another City Conference school. Was it for political reasons, or was it that the athletic director turned a blind eye and failed to recognize potential and not believing in that potential?
Calvin Rayford is well-qualified to be a head coach at any high school. When I ran into him recently, I asked why Milwaukee Washington didn't ask him to be their boys basketball coach after Jay Kenseth stepped down. He didn't have a clue. So maybe it is political.
How can Washington turn away a guy who wore his emotions on his sleeves? Check his credentials. Rayford was an undersized incoming freshman who cracked the varsity lineup and helped lead the Purgolders to a state championship as a senior.
Not only that, Rayford was a McDonald's All-American. We had at least three other players from Wisconsin make the McDonald's All-American team, but Rayford was and might be the last one from Milwaukee. Tack on a good college career at Kansas and some professional ball overseas, and you have a great recipe for someone who's ready to be a head coach.
The Washington job would have been a great fit for Rayford. What do you think people who know Rayford thought when Freddie Riley got the job? It was another snub for a well-qualified and highly-decorated player as it was with James Wright.