BREAKING NEWS: UWM RICK COSTELLO "RESIGNS"...more to come
What a weekend, where to start? We'll start with the Milwaukee Bucks....
Milwaukee Bucks & NBA
The Bucks kept their playoff hopes alive on Saturday night with a
106-95 win over the New Jersey Nets
. It was do or die for the Battling Bucks as Philadelphia had won, so a loss meant the end for the Bucks, but
Brandon Jennings
took control and it showed in the box after the game. 30 points, 6 rebounds, 6 assists. Jennings shot 50% from the field, was 3-5 from 3 pt land, but the kicker was his performance from the free throw line, as he went 9-11. Another strong performance by
Ersan Ilyasova
, as he went for 17 & 17 in scoring and rebounds.
The Bucks have three games left, tonight against
Toronto
, Wednesday against
Philly
and
Thursday
they finish it up on the road in
Boston
. Obviously Philly is the key, as they have a 3 game lead on the Bucks for the last playoff spot. Philly's final three games are all on the road, with New Jersey, the Bucks and
Detroit
. No question, the Bucks need to win out, 76ers need to lose out. If the Bucks win tonight, and Philly loses, Wednesday night's game could be a pretty wild game.
So, with the season winding down shortly, what will happen with the Bucks?
Charles Gardner takes a look at the top brass
.
Scott Skiles
and
John Hammond
were both given 4 year deals, and there is one year left. However, Hammond has been rumored for the Portland job. As much as I think a change may be needed, look at what Hammond has done - the guy came into Milwaukee with an absolute contract mess. He couldn't even sign a free agent because their contracts and salaries were so out of whack. He started wheeling and dealing and found a way to clean it out that was nothing short of miraculous. Sure, he whiffed when he drafted
Joe Alexander
, but in a guard heavy draft he passed on the favorites and drafted Brandon Jennings, which proved to be a huge move.
College Basketball

Before I get into the local schools, I feel the need to point out something on the horizon that may effect everyone.
Marquette
in the
Big East
,
Milwaukee
and
Green Bay
in the
Horizon League
and
Wisconsin
in the
Big 10
. This week will be huge in determining the future of a lot of conferences around the country. This week are the BCS meetings in Florida. What will be determined over the 3 1/2 days? Will
Notre Dame
be pushed into joining a conference? Will playoffs become a reality? Will the BCS continue on? This meeting will directly lead to what could be the final go around for conference realignment.
Marquette Golden Eagles


Just into the weekend it came out the Marquette had honored 6'10 C
Aaron Durley of Ft. Bend Bush High School in Texas' request to be released from his letter of intent
. Those on the attack claimed that MU ran him off, but from what I have been able to gather, Marquette strongly recommended that he attend a prep school for a year to further help his development. You see, Durley missed the majority of his junior year with an injury, and his senior year he spent a lot of time on the bench behind All-American
Cameron Ridley
. Well, Durley didn't like that idea and opted out of his release. He seems like a good kid, hopefully he finds what he is looking for.
So where to next?
Arizona State
transfer
Trent Lockett
visited MU last week, and has reportedly narrowed his choices down to Marquette,
Iowa State
and
Gonzaga
. Lockett will likely make up his mind in early May.
Marquette has also been mentioned with
Drake
transfer
Rayvonte Rice
and has also been named as a finalist for
Kevin Larsen
of
Montrose Christian
, but I do not believe MU should be on that final list, as I do not believe MU was a serious player in his recruitment.
Tony Benford
- will
North Texas
be the school that gives him a shot as a head coach? Well,
Fran Fraschilla may have something to say about that.
Milwaukee Panthers


Wisconsin Badgers

Well, the Bo Ryan vs Jarred Uthoff divorce is finally over, or is it? At the press conference in his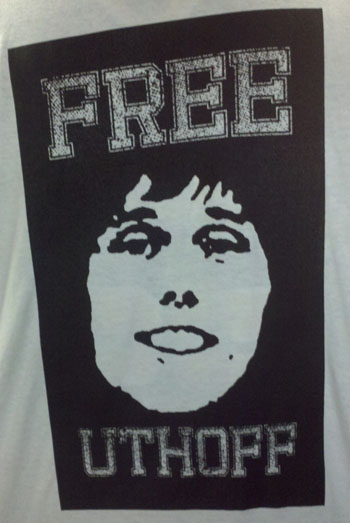 office late last week,
Bo Ryan explained his side of the story
. Not long after that, Uthoff came out in an interview and
contradicted several of the things that Ryan had said
. I would say it is time for this whole ordeal to just go away, but I don't think it will, at least not if the Iowa Barnstormers have anything to say about it - Uthoff's former AAU team arrived to play in the NY2LA tournament in Minneapolis wearing "Free Uthoff" tee-shirts. What we all have to remember with this story is that even though college basketball players are viewed as celebrities and role models on national TV, they are still 17-22 year old kids, and that really needs to be kept in perspective.
On a brighter note, future Badger and the pride of Sheboygan Lutheran,
Sam Dekker was one of the 24 players invited to try out for Team USA's U18 team
in Colorado Springs. Congrats to Sam and good luck, here's to you making Team USA!!!
Preps
Huge AAU basketball weekend in Minneapolis. Not only the Nike EYBL kicking off but also the NY2LA Spring Extravaganza. Local players were in both events, and here is a recap as there were
some standout performances.
Mark Miller of WisHoops.net reports that
Rice Lake's Wally Ellenson has picked up an offer from Georgetown
. Congrats to Wally! The talent in this state keeps getting better and better, so why no love for Wisconsin High Schoolers on a national level?
Photo of the Day
.... Now there are ball hogs and there are serious ball hogs. What is it with these guys? Do they just not see it? Well, here is a picture of how Kobe Bryant views the court as opposed to how the rest of humanity views the court.....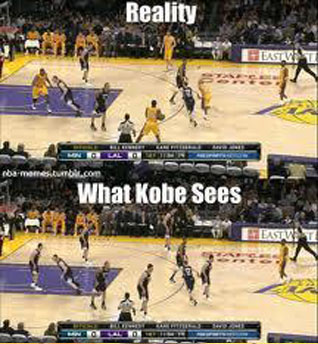 Video of the Day....How can you not laugh at this one? Someone must have made the mistake of having Real Chilli as a "Pre-Game" meal....