Well, it started out like a quiet week.....
We have to start off with the
Wisconsin
situation with
Jaerrod Uthoff
.
This story has caught fire nationally, and the majority are all piling on Bo Ryan.
So, for those that don't know the story, Freshman redshirt Jarrod Uthoff, a former Mr. Basketball in the state of Iowa, wants to transfer. He feels the system doesn't fit him well. Fine, it happens everyday, there are close to 400 listed transfers this year alone. Or is it fine? Not sitting well with Bo Ryan.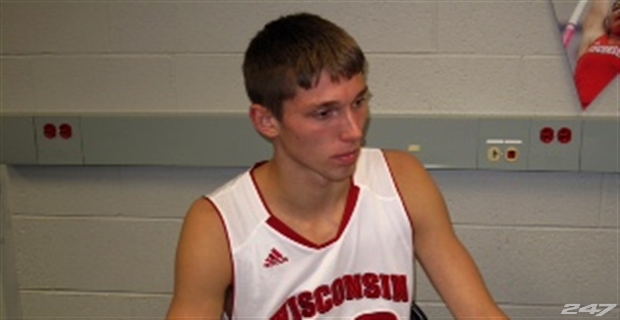 College coaches generally block schools that a player can transfer to. Rule of thumb, block your own conference and also an instate or repeated rival - like
Marquette
. Done. But Bo Ryan has added a few schools. Like
Iowa State
, which is in Uthoff's home state, and the entire
ACC
. Whuahh??? The ACC? Apparently former UW assistant
Tony Bennett
who is coaching at
Virginia
, called Wisconsin for permission to talk to Uthoff, and was responded to with a list banning the ACC. The Big 10 has an annual battle against the ACC, so Bo considers all schools potential opponents. Many think that is taking it too far, and I agree.
What makes the situation more curious, is that Wisconsin successfully appealed an in-conference block last year, allowing
Ben Brust
to come to Wisconsin after
Iowa
made a coaching change. Now that situation was different as Brust was not a 'transfer', but an in-coming freshmen, but the process is identical.
So why Iowa State and Virginia? Recruiting. Iowa State Associate Head Coach
TJ Otzelberger
is from Wisconsin, and has recruited the state quite well. Wisconsin products
Diante Garrett
and Marquette transfer
Scott Christopherson
had great careers with the Cyclones, and
Michigan State
transfer
Korie Lucious
will play there next year. ISU is also involved with
Onalaska's Matt Thomas
, who is also being recruited by Wisconsin. Out in Virginia, Tony Bennett has successfully landed
Paul Jesperson
from Merrill Wisconsin. Both Bennett and Otzelberger have been recruiting the state hard, and that is a conflict for Wisconsin, who has had a lock on in-state recruiting over the years.
We'll see what happens, but Uthoff committed to Wisconsin the summer before his senior year. He was what, 16? 17? Kids are making these decisions way too early, so they should be able to change their minds with 'limited restrictions'. Ban the Big 10, ban Marquette, let the rest go.
SMU Hires Larry Brown: Marquette's Tony Benford
does not get the SMU job, it went to
Larry "The Mod-Father" Brown
. Well, actually, with the help of
John Calipari
and super agent
William "World Wide Wes" Wesley
, it went to
Larry Brown, Illinois State Coach Tim Jankovich, who will be the coach in waiting, and also former Illinois Assistant Jerrance Howard
. Wow.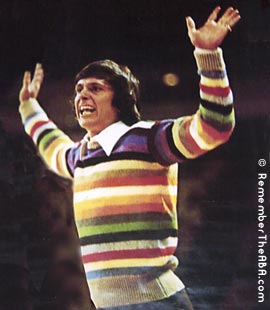 That is the first time I have ever heard a head coach, his assistant, his replacement and another assistant named all at the same time. This is also the first time I have heard of a college head coach and his super agent/super friend/super questionable person "help out" with the process. There has got to be an incredible story behind this, and who knows if the NCAA will ever get off of their chairs to look into it. But, like everything else, most rules don't apply to coaches, so with WWW involved, it is ok on the surface, but let's see if this agent is hugging players after a big game like he was after the title game. I mean, I'm sure those Kentucky players were hugging Wes because it is normal to hug someone you have never met during the greatest moment of your life.
Speaking of Kentucky, they held their
annual super-mega one-and-done press conference
yesterday. All five starters are declaring for the draft, and Kentucky may have 6 first round draft picks.
On that note, the
NCAA passed new academic standards for Jucos
yesterday and it is drawing a lot of fire around the nation. So now, Jucos will have to have a 2.5 GPA in transferable credits, in order to qualify. Pretty harsh when you consider that "one-and dones" like the guys at Kentucky only have to pass 6 credits, in order to slide through to the NBA. Yep, 6 credits - pass two classes first semester and you are good, but a kid that has worked his butt off and gone through the Juco route gets a 3.0 overall, but a 2.4 in transferable credits is out. Sounds like a bunch of crap. What this will do is build up the prep schools and hurt kids that need a chance, whether they are looking to get more exposure or looking to improve their academics.
Benford is now the leading candidate at North Texas
, and could possibly be in the mix with other openings.
UWM:
Things are still quiet over on Downer Ave, but there has to be something going on, doesn't there? I mean, you don't launch a complete review of your athletic department only to come back and say, "Everything's good", do you?
Preps:
High school players from all over Wisconsin will be headed to Minneapolis next weekend as NY2LA takes their AAU show on the road and
invades the Twin Cities with their Spring Extravaganza
, a tourney featuring 17U, 16U & 15U teams from around the country.
Milwaukee Bucks:
The Battling Bucks are finally back in action tonight hoping to squeeze their way into the playoffs. The Bucks will take on the Wizards in DC, game time is 7:00 - and FSN will have the action. The 76ers lost to the Pacers last night which will help
the Bucks chances
, but Boston was no help as the fell to the Knicks in the Garden.
Speaking of the Knicks,
Steve "NovaKaine" Novak
was at it again last night. The Brown Deer Bomber put up 25 points while going 8-10 from the field. The performance once again gets Novak into the spotlight in New York, as he dons the back cover of both the New York Daily News and the New York Post today. He is now leading the NBA in 3 point shooting, both makes and percentage.
JR Smith
states:
"He is the best 3-point shooter in our league, itís not even close."

Photo of the Day:
How about these clowns?
Texas A&M
puts out new T-shirts that include the map of the SEC. However, they included North Carolina, which has no team in the conference, and left out their Iscariot partner Missouri as well as TEXAS, their own damn state!! Classic!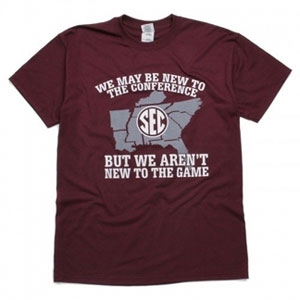 Video of the day:
You really have to feel for a guy like
Michael Jordan
....