One of the main reasons that organizers featured one girls and two boys basketball games at Nicolet High School, Apr. 14, had something to do with getting college coaches to show up.
If some of the college coaches were willing to come to watch the boys and girls upperclassmen and the other boys underclassmen games, they would have seen some raw talent that needed to be groomed at the next level.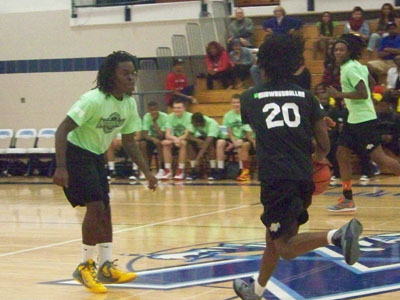 I didn't see any college coaches, or I wasn't aware of who might have been there to watch. People who paid $10 to see a collection of area players run up and down the court weren't disappointed.
The first annual Maximum Exposure games in collaboration with Midwest Ballers.com featured some overlooked all-conference players who put on a show. Truthfully, it was like watching a recreation league game with hardly any defense, high scoring, some dunking and razzle-dazzle plays.
Not to take anything away from the effort put on by the event organizers, but there must be more than making it just an all-star game. What about holding a college fair to give some of the players who may not get serious interest from two or four-year schools options in case their dream of playing ball at the collegiate level doesn't pan out? At least they can go to college, be a regular student and study something.
For some of the senior participants, high school ball is the end of the line for them. Anyways, it was all about having some fun out there on the court.
Hopefully, there will be a second annual Maximum Exposure event next year because it gives the smaller colleges a chance to tap into the unrecognized or underecognized pool of local talent. Some of those guys still may be uncertain of their post high school plans, but the opportunity to see if their interest in playing ball in college is up to them, which was why they got some maximum exposure.